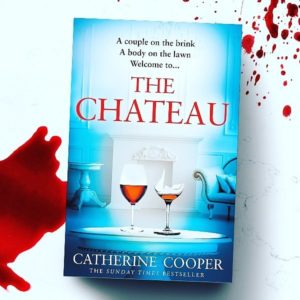 My thoughts…
Twists out of nowhere! This book is full of little secrets and unexpected twists that will have you doubling back to read the page again. Did that really just happen?! Yes. Yes it did! Wow what a brilliant book. Catherine Cooper's debut novel last year – The Chalet – was stunning but she gets even better with this one!
The Chateau is a larger than life character in itself – looming in the background throughout the book and set up with characterisation almost like a real life person. The narratives are strong, leaving you feeling as if you know the characters well until the next persons story unearths the picture you were building up. By the end of the book, who will you really feel compassion for and dislike for? It's difficult to work it out through the delicious plot twists and underlying secrets!
About the book…
They thought it was perfect. They were wrong…
A glamorous chateau
Aura and Nick don't talk about what happened in England. They've bought a chateau in France to make a fresh start, and their kids need them to stay together – whatever it costs.
A couple on the brink
The expat community is welcoming, but when a neighbour is murdered at a lavish party, Aura and Nick don't know who to trust.
A secret that is bound to come out…
Someone knows exactly why they really came to the chateau. And someone is going to give them what they deserve.
Genre: Thriller/Mystery
Publication: August 2021

About the author…
Catherine is a freelance journalist living in the South of France. The Chalet was her first novel however she published a novella in 2013. The Chateau is her second. Catherine is a family travel expert and writes about children, travel, health and lifestyle.
Connect with the Author…
Facebook |Twitter | Instagram | Website
Thanks to NetGalley and the publisher and author for a copy of this book in exchange for my honest review.