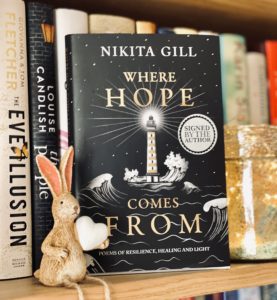 My thoughts…
We've just been through an incredible eighteen months. Not the good kind of incredible either. Perhaps incredulous is a better word for it. A lot has happened. A lot has changed. Much of the world still lives under restrictions that were incomprehensible in 2019. So, then, how to sum it up? You can't. But you can try. Nikita Gill did – and the result? A collection of poetry that will have you saying, 'Yes, Yes, Yes, and Yes' as you relate over and over again to her words. Nikita has captured, through a collection of writings, what many of us couldn't even begin to work out on paper.
You will read this collection of Poetry and you will feel less alone. Nikita takes our collective trauma and pushes us forward into a new territory. One where we can begin to work through the feelings of confusion that the last eighteen months has dragged us through. She reminds us of the things we were grateful for and the things that are no longer mammoth and big in the face of something even bigger. Everyone will take something different from this book. There will be a piece or a line or even a word that will strike a chord with you. It will hopefully be a reminder, most of all, of the beauty in slowing down, taking an extra moment with a loved one, and making the most of every single second life throws at you.
About the Book…
Written against the backdrop of global crisis, Nikita Gill's new collection Where Hope Comes From shines a light into the darkness as we begin our journey back to hope. Weaving words that explore our collective trauma, her poetry takes us on a journey through the five stages of grief to the five stages of hope through the life cycle of a star. The collection features her most popular poems to date Love in the Time of Coronavirus and How to be Strong, alongside new material and beautiful watercolour illustrations.
Genre: Poetry
Publication: February 2021

About the Author…
Nikita Gill is a British-Indian poet, playwright, writer and illustrator living in the south of England. She has published six collections of Poetry.
Connect with the Author…
Facebook | Twitter | Instagram |
Are you looking for a Bookish environment to talk all things books? Then look no further than The Fiction Cafe – don't forget to answer the membership questions in order to join. We welcome Authors and Readers and there are lots of exciting happenings in the group! Our Book of the Month Read A Longs happen there too.