My thoughts…
Absorbing and consuming Louise's books seems to be becoming something of a habit. Starting with This is How We Are Human – her latest publication – and working my way back, I can honestly say I don't think she is faltering with her talent and her way with words. The stories that pour onto the pages and into the readers minds are woven with expertise, knowledge and a basis of real life happenings. This book is no exception to that. I still can't decide which is my favourite yet, and I'm sure as I read more of Louise's books, the dilemma will continue!
This is another book that spans genres. Starting off as contemporary fiction with domestic drama undertones, it evolves into something spiritual (but not too much) and wraps around to encompass a big part of real life History. All of these strands are twisted together into a book that stands out from the rest – historical fiction – contemporary fiction – whatever we want to label it has – without a doubt its amazing.
Once you've finished, be sure to read the Author's note at the end and if you're interested further (which I'm sure you will be) go and hunt down the real life story that the Historical aspect is based upon. You will be stunned, I was.
About the Book Box…
We stock all of Louise's books and we are very lucky to be able to include a signed book-plate with each one too. For more information visit our shop listing here.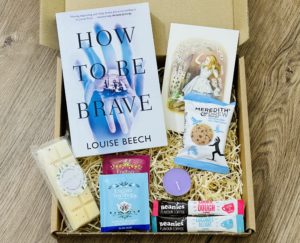 About the Book…
All the stories died that morning … until we found the one we'd always known.
When nine-year-old Rose is diagnosed with a life-threatening illness, Natalie must use her imagination to keep her daughter alive. They begin dreaming about and seeing a man in a brown suit who feels hauntingly familiar, a man who has something for them.
Through the magic of storytelling, Natalie and Rose are transported to the Atlantic Ocean in 1943, to a lifeboat, where an ancestor survived for fifty days before being rescued.
Genre: Contemporary Fiction
Publication: June 2015

About the Author…
Louise's debut novel, How to be Brave, was a Guardian Readers' pick in 2015 and a top ten bestseller on Amazon. The Mountain in my Shoe longlisted for the Guardian's Not The Booker Prize 2016. The Sunday Mirror called Maria in the Moon 'quirky, darkly comic, original and heartfelt'. It was also a Must Read in the Sunday Express and a Book of the Year at LoveReadingUK.
The Lion Tamer Who Lost was described as 'engrossing and captivating' by the Daily Express. It also shortlisted for the RNA's Romantic Novel of the Year and longlisted for the Polari Prize 2019. Call Me Star Girl hit number one on Kobo. It also longlisted for the Not The Booker Prize and won the Best magazine Big Book Award 2019. I Am Dust was a Top Six pick in Crime Monthly and a LoveReadingUK Monthly Pick. This Is How We Are Human is out now.
Connect with the Author…
| Twitter | Instagram | Website
Are you looking for a Bookish environment to talk all things books? Then look no further than The Fiction Cafe – don't forget to answer the membership questions in order to join. We welcome Authors and Readers and there are lots of exciting happenings in the group! Our Book of the Month Read A Longs happen there too.