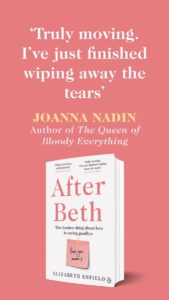 My thoughts…
This is an intimate journey into a Mother's grief, and the grief of those around her too. The world keeps spinning despite a tragic loss and Elizabeth Enfield captures the rollercoaster emotions of navigating it with one less person in it. Sensitively and carefully, she writes the highs and lows of Cate's journey – firmly highlighting that grief is not a 'one size fits all' sort of emotion. The book will break your heart – but it's also uplifting at the same time. There's not a great light at the end of the tunnel, but little gaps all the way through – this book shows you where they are.
About the Book…
The hardest thing about love is saying goodbye . . .
On a beautiful late-summer's morning, Cate Challoner's daughter, Beth, heads to the beach with her best friend. The girls will spend the day flirting with boys and enjoying the thrill of being young. Beth is eighteen and soon leaving home for college. Her mother is already missing her.
That afternoon, the doorbell rings. Cate immediately knows something is wrong. CPR. Resuscitation. What do these words have to do with two teenagers enjoying an afternoon at the beach?
Cate's daughter is her everything. Beth's presence at home is inescapable. How can a child stop existing? How can a mother survive such loss?
Can a shattered world be put back together?
Genre: Contemporary Fiction
Publication: August 2021

About the Author…
Lizzie Enfield is a journalist and regular contributor to national newspapers, magazines and radio. She has written five novels (the latest two as Elizabeth) one non-fiction title and had short stories broadcast on Radio Four and published in various magazines and anthologies. She also teaches creative writing and journalism.
Connect with the Author…
Thanks to NetGalley and the publisher and author for a copy of this book in exchange for my honest review. Check out my blog for more book related posts and to enquire about future reviews, blog tours and cover reveals.
Are you looking for a Bookish environment to talk all things books? Then look no further than The Fiction Cafe – don't forget to answer the membership questions in order to join. We welcome Authors and Readers and there are lots of exciting happenings in the group! Our Book of the Month Read A Longs happen there too.