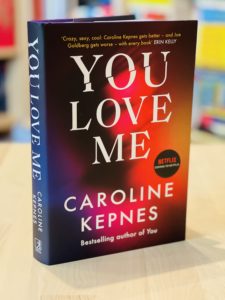 Our thoughts…
So many questions – firstly, to Caroline Kepnes – how does she keep on making this character and these books even better than the one before?! Joe Joe Joe Joe Joe. He's built up into an amazing character. We root for him. We want him to succeed. We don't want him caught and locked up, of course we don't! But why why why why why? He's an incredibly dangerous person. He's killed people. And yet… There's just something about him. Book three was incredible. But we need more. If you've seen the series you'll likely read this book in Joe's voice too – and it's even better if you do!
Quite a few people have asked whether or not this book can be read as a standalone. Of course it can – most books can! But should it be? Probably not. You can read them out of order but you won't always get the references and the references are amazing. Throughout You Love Me the subtle references back to the past were brilliant!
Second question – should you watch the series or the book first? In our opinion it's whatever usually works best for you BUT… The narrative of the You series is very unique. VERY unique. We've read a lot of books but there aren't a huge amount in this style. It's brilliant. However if you find yourself struggling to become immersed in it then watch a few episodes and you'll soon understand it all. And you'll read it all in Penn Badgley (Joe's) voice.
About the Book…
Joe is done with the cities. He's done with the muck and the posers, done with Love. Now, he's saying hello to nature, to simple pleasures on a cozy island in the Pacific Northwest. For the first time in a long time, he can just breathe.
He gets a job at the local library—he does know a thing or two about books—and that's where he meets her: Mary Kay DiMarco. Librarian. Joe won't meddle, he will not obsess. He'll win her the old-fashioned way… by providing a shoulder to cry on, a helping hand. Over time, they'll both heal their wounds and begin their happily ever after in this sleepy town.
The trouble is… Mary Kay already has a life. She's a mother. She's a friend. She's… busy.
True love can only triumph if both people are willing to make room for the real thing. Joe cleared his decks. He's ready. And hopefully, with his encouragement and undying support, Mary Kay will do the right thing and make room for him.
Genre: Psychological Thriller
Publication: April 2021

About the Author…
Caroline Kepnes is the New York Times bestselling author of You, Hidden Bodies, Providence and…You Love Me.
Her work has been translated into a multitude of languages and inspired a television series adaptation of You, currently on Netflix. Kepnes graduated from Brown University and then worked as a pop culture journalist for Entertainment Weekly and a TV writer for 7th Heaven and The Secret Life of the American Teenager. She grew up on Cape Cod, and now lives in Los Angeles.
Connect with the Author…
Facebook | Twitter | Instagram | Website
Are you looking for a Bookish environment to talk all things books? Then look no further than The Fiction Cafe – don't forget to answer the membership questions in order to join. We welcome Authors and Readers and there are lots of exciting happenings in the group! Our Book of the Month Read A Longs happen there too.