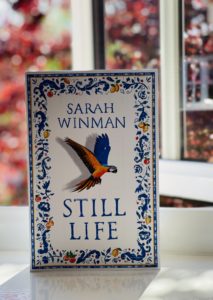 Our thoughts…
'We just need to know what the heart's capable of, Evelyn,
And do you know what it's capable of?
I do. Grace and fury.'
As with all of Sarah's books – this is utterly beautiful. Sarah is, as many have said, one of the greatest story tellers of our time. When God Was a Rabbit – published in 2011, was all-consuming and set the bar very high for Sarah's work. So it's natural to be cautious about a new publication – rest assured you do not need to be!
You need to clear your schedule for this book, because you will get lost in it. It will consume you. You will consume it. There's happy, sad, hilarious and devestating aspects – perfectly knitted together to create a beautiful novel. The characters will tug at your heart strings and you will not want to say goodbye to them by the end.
About the Book…
This is the brand new novel from bestselling, prize-winning Author, Sarah Winman.
From the author of When God was a Rabbit and Tin Man, Still Life is a big-hearted story of people brought together by love, war, art and the ghost of E.M. Forster.
1944, in the ruined wine cellar of a Tuscan villa, as bombs fall around them, two strangers meet and share an extraordinary evening.
Ulysses Temper is a young British soldier, Evelyn Skinner is a sexagenarian art historian and possible spy. She has come to Italy to salvage paintings from the wreckage and relive memories of the time she encountered EM Forster and had her heart stolen by an Italian maid in a particular Florentine room with a view.
Evelyn's talk of truth and beauty plants a seed in Ulysses' mind that will shape the trajectory of his life – and of those who love him – for the next four decades.
Moving from the Tuscan Hills and piazzas of Florence, to the smog of London's East End, Still Life is a sweeping, joyful novel about beauty, love, family and fate.
Genre: Contemporary Fiction
Publication: June 2021

About the Author…
Sarah Winman was an actress, working in theatre in her twenties and early thirties but by 1992 she says she 'started having my own words' and turned away from other people's scripts and realised she wanted to write a novel. It would be another 20 years until that novel was written and published. Read this fantastic interview from Foyles and more information about Sarah.
Connect with the Author…
Thanks to the publisher and author for a gifted copy of this book in exchange for my honest review. Check out my blog for more book related posts and to enquire about future reviews, blog tours and cover reveals.
Are you looking for a Bookish environment to talk all things books? Then look no further than The Fiction Cafe – don't forget to answer the membership questions in order to join. We welcome Authors and Readers and there are lots of exciting happenings in the group! Our Book of the Month Read A Longs happen there too.