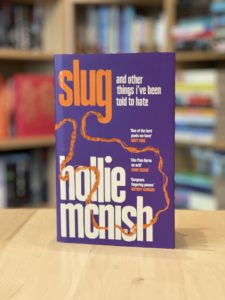 Our thoughts…
From the beginning to the end Slug is filled with pages that you will relate to at some point in your life, if not right now.
Hollie McNish has nailed it with her poetry and this is a completely fantastic collection! Hollie has conveyed compassion, rage and empathy through her words – no easy task!
Huge thanks to another wonderful Author – Gillian Harvey – for sending me this absolutely brilliant collection of poetry.
About the Book…
The new collection of poetry and prose from the Ted Hughes Award-winning author of Nobody Told Me
From Finnish saunas and soppy otters to grief, grandparents and Kellogg's anti-masturbation pants, Slug is a book which holds a mirror lovingly up to the world, past and present, through Hollie's driving, funny, hopeful poetry and prose. Slug is about the human condition: of birth and death and how we manage the possibilities in between.
Genre: Poetry
Publication: May 2021

About the Author…
Hollie McNish is a poet and author based between Cambridge and Glasgow. She has published five collections of poetry: Papers, Cherry Pie, Why I Ride, Plum and one poetic memoir on politics and parenthood as well her most recent publication, Slug.
Connect with the Author…
Facebook | Twitter | Instagram | Order
Are you looking for a Bookish environment to talk all things books? Then look no further than The Fiction Cafe – don't forget to answer the membership questions in order to join. We welcome Authors and Readers and there are lots of exciting happenings in the group! Our Book of the Month Read A Longs happen there too.