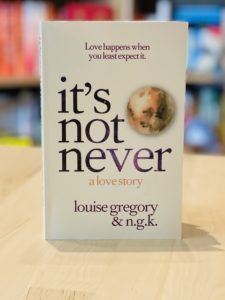 Our thoughts…
What's not to love about this book from Louise Gregory and N.G.K? It's absolutely beautiful. It's very hard to review it without giving too much away though!
Brilliant characters throughout, with very strong female characters and balanced trusting relationships. There's romance, but not too much, back stories that dive into the inspirations behind John and Jessica's career choices and of course, there's Space! This is a great book to learn something new, get lost in a story and become drawn in emotionally too.
About the Book…
Ambitious and hardworking, astronaut Jessica Gabriel refuses to let love get in the way of becoming the first
person to walk on another planet. Or maybe she is just afraid of losing her best friend?
Fellow astronaut, John Eden, is determined to prove he is more than his family name. Yet his insecurities might cost him his place on the mission.
Neither of them are looking for love, and mission protocol forbids it. But love doesn't follow the rules, and the two friends have to decide whether they want to risk everything they've worked for to be together.
Genre: Contemporary Fiction/Space
Publication: April 2021

About the Authors…
N.G.K
N.G.K. (Nathan) is the writer behind the 'Harry The Happy Mouse' series of books. He lives in the Forest Of Dean, UK. Nathan was named among the top 10 children's writers in the world at the Author Academy Awards in 2018. He is also the author of the Ridgeway Furrow series.
Louise Gregory
Louise Gregory is the debut co-author of It's Not Never, and uses her extensive background in psychology, coaching and team dynamics to create multi-layered characters with deep rooted feelings and motivators.
Thanks to the Authors for a copy of this book in exchange for our honest review. Check out our blog for more book related posts and to enquire about future reviews, blog tours and cover reveals.
Are you looking for a Bookish environment to talk all things books? Then look no further than The Fiction Cafe – don't forget to answer the membership questions in order to join. We welcome Authors and Readers and there are lots of exciting happenings in the group! Our Book of the Month Read A Longs happen there too.