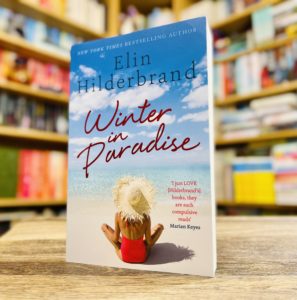 Our thoughts…
Elin Hilderbrand is without doubt queen of the romance novel and her newest series – the Paradise series – will not disappoint you at all. Whether you felt bereft at the end of the Winter Street series or whether you're discovering Elin for the first time, you will in love with this newest set of characters and a brand new setting on the distant Caribbean island of St. John.
There's just the right level of suspense and romance and the underlying back stories for less major characters are portrayed in a beautiful setting. This is a firm five star read and can't wait to see what the next book in the series brings.
About the Book…
A husband's secret life, a wife's new beginning: escape to the Caribbean with #1 New York Times bestselling author Elin Hilderbrand.
Irene Steele shares her idyllic life in a beautiful Iowa City Victorian house with a husband who loves her to sky-writing, sentimental extremes. But as she rings in the new year one cold and snowy night, everything she thought she knew falls to pieces with a shocking phone call: her beloved husband, away on business, has been killed in a helicopter crash. Before Irene can even process the news, she must first confront the perplexing details of her husband's death on the distant Caribbean island of St. John.
After Irene and her sons arrive at this faraway paradise, they make yet another shocking discovery: her husband had been living a secret life. As Irene untangles a web of intrigue and deceit, and as she and her sons find themselves drawn into the vibrant island culture, they have to face the truth about their family, and about their own futures.
Genre: Contemporary Fiction
Publication: 2018 (our edition published in 2019 by Hodder.)

About the Author…
Elin Hilderbrand lives on Nantucket with her husband and their three young children. She grew up in Collegeville, Pennsylvania, and traveled extensively before settling on Nantucket, which has been the setting for her five previous novels. Hilderbrand is a graduate of Johns Hopkins University and the graduate fiction workshop at the University of Iowa.
Order the Box…
Rich with the lush beauty of the tropics and the drama, romance, and intrigue only Elin Hilderbrand can deliver, Winter in Paradise is a truly transporting novel, and the exciting start to a new series. This is book one in the series of three – but each book can be read alone! The book is packaged up in brown paper, string and a wax seal and will arrive in a box with all of our usual treats.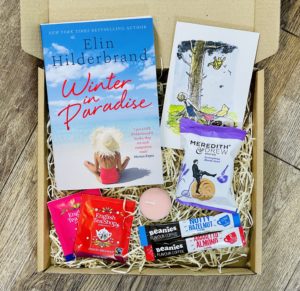 Connect with the Author…
Facebook | Twitter | Instagram
Are you looking for a Bookish environment to talk all things books? Then look no further than The Fiction Cafe – don't forget to answer the membership questions in order to join. We welcome Authors and Readers and there are lots of exciting happenings in the group! Our Book of the Month Read A Longs happen there too.