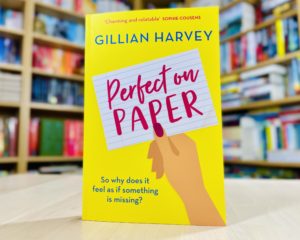 Our thoughts…
Gillian Harvey's debut novel (published in 2020) was absolutely hilarious and important all at the same time. The fantastic news is that she's done it again AND has bettered her first publication (which was a five star read already).
You will nod, you will cringe, you will laugh… you will RELATE and that is what is so amazing about Gillian's books. She writes them in her voice – if you've ever heard her talk about her books and her writing then you'll recognise her authenticity and how that conveys into her publications. She's honest, raw, uplifting and hilarious – and there's always an important underlying message in all of that too but put across in the best way possible.
About the Book…
It's time to shake things up a little…
Clare Bailey's life is perfect. Successful career, loving husband, two kids and a gorgeous townhouse. At least, that's how it looks from the outside.
In fact, she's never felt more invisible. Her boss barely remembers her name, her husband is distracted by his new TV job and her daughter has never found her more embarrassing!
But when she's given a chance to turn her life upside-down she wonders whether she should risk everything she loves for a life that's more than just 'perfect on paper'…?
Genre: Contemporary Fiction
Publication: 13th May 2021 order here!

About the Author…
Gillian Harvey always dreamed of being a writer, but it took a while for that dream to come true. She started her career as an English teacher, before moving to France in 2009 with her husband Ray. In 2012, she started freelance writing for magazines and newspapers, and in 2018 she signed a book deal with Orion for her first novel 'Everything is Fine,' which was published in May 2020. Her debut novel 'Everything is Fine' was longlisted for the Guardian's 'Not the Booker' prize in 2020.
Connect with the Author…
Facebook | Twitter |  Instagram | Website
Thanks to the Publisher and Author for a copy of this book in exchange for my honest review.
Are you looking for a Bookish environment to talk all things books? Then look no further than The Fiction Cafe – don't forget to answer the membership questions in order to join. We welcome Authors and Readers and there are lots of exciting happenings in the group! Our Book of the Month Read A Longs happen there too.