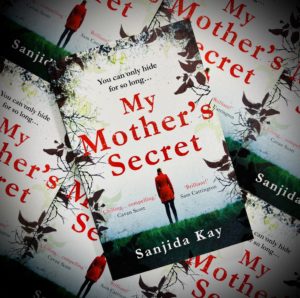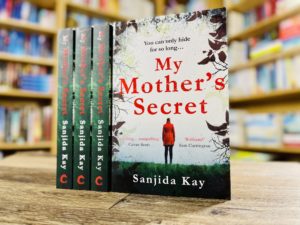 Our thoughts…
Our book of the month for May was completely gripping and had many of us hooked from start to finish! My Mother's Secret was refreshingly unique and although covered aspects of storylines that have been written about before, Sanjida has an Art and a talent with her writing that pulls the reader right into the book until the very end. There were twists that weren't forseen and a storyline that could not have been guessed even in the most wildest of dreams!
The plot is very intricate and carefully planned out as the storyline tells us what's happening through three narratives. Lizze, Emma & Stella. It's easy to become confused but very quickly things start to make sense. The two timelines and the three perspectives unravel with twists, turns and things that you couldn't predict happening. The whole storyline stems from being in the wrong place at the wrong time and how that can be life changing for so many people.
It was fantastic to become immersed in a gripping psychological thriller this month. If you missed out there's still time to buy your signed edition book box from us today – whilst stocks last we may still have some left!
About the Book…
You can only hide for so long…
Lizzie Bradshaw. A student from the Lake District, forced to work away from home, who witnesses a terrible crime. But who will ultimately pay the price?
Emma Taylor. A mother, a wife, and a woman with a dangerous secret. Can she keep her beloved family safely together?
Stella Taylor. A disaffected teenager, determined to discover what her mother is hiding. But how far will she go to uncover the truth?
And one man, powerful, manipulative and cunning, who controls all their destinies.
Genre: Psychological Thriller
Publication: 2019

About the Author…
Dr Sanjida O'Connell (Sanjida Kay) has a PhD in zoology and psychology. She's the author of many novels including Theory of Mind, Angel Bird, The Priest and the Lily and Sugar Island.
Her first psychological thriller, Bone by Bone, written under the pen name of Sanjida Kay, and published by Corvus Books, went straight into the Amazon kindle best-selling list. It was long listed for the CWA Steel Dagger Award and nominated as one of the best crime and thriller books of 2016 by the Guardian and the Sunday Express. She's now had three more psychological thrillers published by Corvus Books: The Stolen Child, My Mother's Secret and One Year Later.
She's also contributed to two encyclopaedias, had poetry published in an anthology and edited two collections of work by students for the charity, First Story.
Sanjida has been shortlisted for the BBC Asia Awards, was one of the winners of the Betty Trask Award for Romantic Fiction, shortlisted for the Daily Telegraph Science Writer's Award, highly commended for BBC Wildlife Magazine's Award for Nature Writing and shortlisted for Asian Woman of the Year. Check out Sanjida's other fiction publications here.
Connect with the Author…
Facebook | Twitter | Instagram | Website
Are you looking for a Bookish environment to talk all things books? Then look no further than The Fiction Cafe – don't forget to answer the membership questions in order to join. We welcome Authors and Readers and there are lots of exciting happenings in the group! Our Book of the Month Read A Longs happen there too.