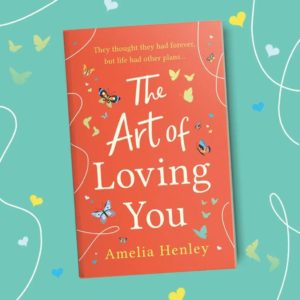 My thoughts…
Amelia Henley's debut novel was published in 2020 and was a five star read for me – completely beautiful from start to finish! Amelia writes contemporary fiction with fantastic style and the excellent structure and talent that we have come to see in her psychological thrillers published under her real name, Louise Jensen, are firmly present in her new genre.
The Art of Loving You is no exception – beautiful prose, interesting and compelling characters and carefully constructed storylines and twists are present throughout the book. Being heavily invested in the contemporary fiction genre however and having read extensively – quite a few of the twists and storylines revealed were things that have already been well covered before in existing fiction books/movies and therefore didn't feel as revealing or unique. For someone new to the genre however, this book has elements of surprise that will be brilliant.
About the Book…
They were so in love . . .
And then life changed forever . . .
Will they find happiness again?
Libby and Jack are the happiest they've ever been. Thanks to their dear friend, eighty-year-old Sid, they've just bought their first house together, and it's the beginning of the life they've always dreamed of.
But the universe has other plans for Libby and Jack and a devastating twist of fate shatters their world.
All of a sudden life is looking very different, and unlikely though it seems, might Sid be the one person who can help Libby and Jack move forward when what they loved the most has been lost?
Genre: Contemporary Fiction
Publication: July 2021

About the Author…
Amelia Henley is a hopeless romantic who has a penchant for exploring the intricacies of relationships through writing heart-breaking, high-concept love stories. This is her second novel. Amelia also writes psychological thrillers under her real name, Louise Jensen.
Connect with the Author…
Thanks to NetGalley and the publisher and author for a copy of this book in exchange for my honest review. Check out my blog for more book related posts and to enquire about future reviews, blog tours and cover reveals.
Are you looking for a Bookish environment to talk all things books? Then look no further than The Fiction Cafe – don't forget to answer the membership questions in order to join. We welcome Authors and Readers and there are lots of exciting happenings in the group! Our Book of the Month Read A Longs happen there too.