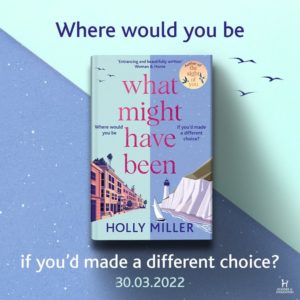 My thoughts…
It's no secret that Holly's debut novel, The Sight Of You, is a huge huge favourite and one I take the opportunity to suggest to others whenever I can. I gave a sigh of relief when I read the first few chapters as Holly's seemingly effortless but very brilliant style of writing and scene setting came from the pages with ease. It was like coming home. I also really like the book cover – and it captures perfectly the 'Sliding Doors' aspects of the novel. Two very different lives play out as a result of Holly's choics between two men in her life. Very much what it says on the cover…'What Might Have Been' is explored with Holly's brilliant writing style through alternate chapters focusing on Lucy's lives.
However, (and this is a 'But'…really – it's such a hard one to write!) the characters and the storyline itself didn't feel as perfected as Holly's debut and I definitely wasn't drawn to these characters either. Nevertheless you'll never like absolutely everyone in fiction and that's the point of literature. But the build up of each and the character profiles never really sat right with me. The Sight of You is still my absolute favourite, and I don't see anything topping that in the future from Holly or anyone else. It's something very special. But I will always pick up Holly's books, just to check. Just in case… And I'm so glad that I read this because it was warm, comforting and entertaining throughout.
Throughout the scenarios that unravel in the book and the 'What If's' and 'If Only's' – I was constantly considering which life was better. Which would I choose, if I had a choice? I really like how this book challenged my thinking even long after I had finished it, and pushed me to consider which the perfect life was – and whether there actually is one. There are elements of both scenarios that are so important and life-changing as well as life-affirming.
Fancy giving Holly's debut a go? Head to the shop and you can order your signed edition!
About the Book…
The day that changes Lucy's life starts in the worst way possible when she is abruptly fired from her job. Drowning her sorrows in a nearby bar, Lucy spots her ex-boyfriend Max walking past outside. Should she stay where she is and ignore him or should she step outside and say hello?
Everything hinges on the outcome of this one decision. In two storylines, we see what happens when Lucy follows both her head and her heart, and how the ripples from this moment change her whole life.
A heartbreaking, uplifting and unforgettable novel for anyone who has ever paused to wonder what might have happened if you made a different choice.
Genre: Contemporary Fiction
Publication: Expected January 2022

About the Author…
Holly Miller was born and grew up in Bedfordshire. Since university she has worked as a marketer, editor and copywriter. Holly currently lives in Norfolk with her partner and their dog. The Sight Of You is Holly's first novel and this is her second.
Connect with the Author…
Thanks to NetGalley and the publisher and author for a copy of this book in exchange for my honest review.