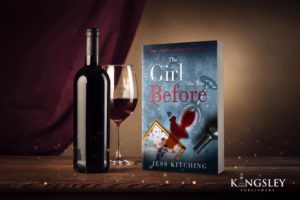 My thoughts…
The almost unanimous theme throughout reviews for this debut novel is… how on earth is it a debut?! It's brilliant! And that's exactly how I felt when reading it. Everything about this book is incredibly professional, warm and inviting. From the marketing, the publisher, the cover, the Author right up to the final edited version. Because of all of this, I can't wait to see what Jess writes next!
I really enjoy Crime Thrillers and it's rare that I will deviate from my trusty usuals to try something new. I'm so pleased that I did though. This book is incredibly real. The setting, the characters, the storyline… it's all possible and very much current. If that isn't enough to grip your attention… the twists are! They really kept me on my toes and made this book very hard to put down.
To add to a fantastic book, behind it is also a truly lovely Author. She will welcome you reaching out to her on social media to tell her which twists you worked out and which ones you didn't! Jess is warm, approachable and so supportive of other Authors and businesses in general that it's so lovely to speak with her.
Huge thank you to Kingsley Publishers and Jess for sending me an advanced digital copy. I also had the pleasure of putting together bespoke book boxes featuring this title so I know that the book is stunning in paperback publication too!
About the Book…
A crime thriller with a brilliant twist you won't see coming!
Powerful, packed full of gruelling details that will linger with you long after the book has finished.
Nat lives a picture-perfect life, but it wasn't always this way. A victim of horrific bullying when she was a teenager, Nat will do anything to keep distance between the girl she was before and the woman she is now.
But when her best friend is murdered and people begin to point their finger at her, Nat's new life quickly unravels.
To Nat, it's no surprise the crime happened at the same time as the return of her biggest tormentor, Chrissy Summers. A woman with a violent streak who destroyed lives when she was younger and isn't afraid to do it again.
Face to face with the past she so firmly keeps behind her, Nat's sanity wavers as her determination to reveal Chrissy as the monster she knows her as rises to dangerous heights.
The question is, can Nat prove Chrissy is a killer, or will Chrissy get to Nat and her family before she has the chance?
Genre: Crime Thriller
Publication: October 2021

About the Author…
Jess Kitching is an avid reader, writer and binge-watcher. Originally from Bradford, England, she currently lives in Sydney with her fiancé Jack. Her two goals in life were to move to Australia and have a book published. To be able to say she has done both is something she still can't wrap her head around
Connect with the Author…
Facebook | Twitter | Instagram | Website
Thanks to the Publisher and Author for a copy of this book in exchange for my honest review. Check out my blog for more book related posts and to enquire about future reviews, blog tours and cover reveals.
Are you looking for a Bookish environment to talk all things books? Then look no further than The Fiction Cafe – don't forget to answer the membership questions in order to join. We welcome Authors and Readers and there are lots of exciting happenings in the group! Our Book of the Month Read A Longs happen there too.