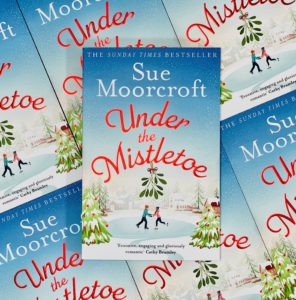 If you want to escape to the cottage & village in The Holiday movie then this is absolutely the book for you! This is such a lovely, warm and inviting book – despite dealing with some difficult topics.
Sue handles the sensitive issues (no spoilers here!) with care and consideration. A lot of time and research has obviously gone into the storylines that Sue covers too.
I loved the traditional storyline that was unpredictable! Just when I thought I knew how something would pan out, it ended up completely differently and kept the book fresh and topical.
The characters had flaws – which is something to celebrate! Flawed characters! Thank you Sue! It's great to have a realistic set of characters in a book, and imperfect Christmas traditions that make it all the more better. Despite the issues covered and explored, this was still a book full of escapism and the visuals created by Sue's descriptions of the Artwork and Crafts within the pages were just beautiful.
About the Book…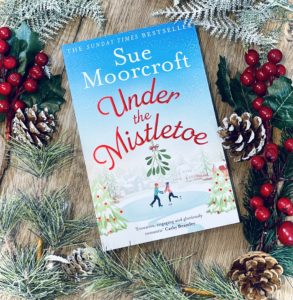 Christmas. A time for family, friends – and rekindling old flames…
When Laurel returns to the village of Middledip, she's looking for a quiet life. Adjusting to her recent divorce, she's ready to spend some time getting back on her feet amidst the glorious snow-dusted countryside.
Yet, life in Middledip is far from straightforward. Coming to the aid of her sister, Rea, as she navigates her own troubles, Laurel barely has a moment to think about where her own life is going.
However, time stands still when she sees her old flame, Grady Cassidy – and it's soon as if they've never been apart. But through her happiness, Laurel remembers why she left the village all those years ago, as she recalls a dark night and Grady's once-wayward brother, Mac…
Can Laurel learn to forgive and forget? Or will her chances of Christmas under the mistletoe with Grady remain a dream?
Genre: Romance/Contemporary Fiction
Publication: October 2021

About the Book Box…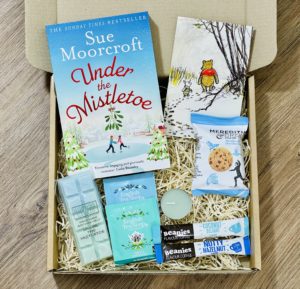 You can order your special edition book box here. It includes a copy of the book signed by Sue Moorcroft as well as lots of other goodies! Hampshire Candles have created a special scented wax melt bar for this box too – it smells beautiful.
About the Author…
Sue Moorcroft is an award-winning Sunday Times and internationally bestselling author of emotionally compelling feel-good fiction who has reached the coveted Number 1 spot on Amazon Kindle UK and Top 100 Amazon Kindle US.
Sue's a past Vice-Chair of the Romantic Novelists' Association and editor of its short story anthologies. Her novels, short stories, serials, courses and columns have appeared around the world. An army child, Sue was born in Germany then lived in Cyprus, Malta and the UK.
Connect with the Author…
Facebook | Twitter | Instagram