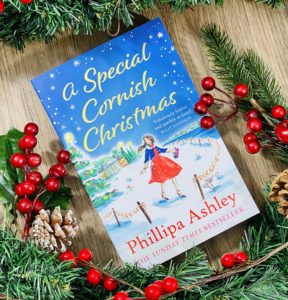 Phillipa Ashley's books are a real treat because there is always so much depth to them. This is festive and feel-good but like all of Phillipa's books, is also a treat. The books really are a love letter to Cornwall and much time and effort goes into capturing the beauty of the setting. Add to this the delicious food described throughout and you've got the recipe for a perfect novel. All it needs is the characters and storyline… which do not disappoint!
It's always lovely to revisit a few familiar characters too and we get to find out more about Bo who is briefly mentioned in Phillipa's last Summer book.  The characters have extremely well written quirks, personalities and aspects that make them all key parts of the book.
About the Book Box…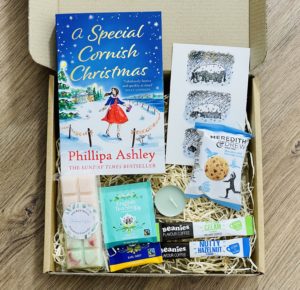 You can order your signed edition of the book with all of our usual treats by visiting the link here.
About the Book…
For Bo Grayson, Christmas has always been the most wonderful time of the year. Well, until she had her heart broken last December…
At a local summer fete, Bo and her friends meet the mysterious fortune teller Madame Odette, and they are each given the same prediction: You will meet the love of your life by Christmas Day.
With just a few months until the festive season, they dismiss the predictions out of hand. Bo's attentions are focused on creating the best seasonal menu for her Boatyard Café, and her rock and roll dance group – the Falford Flingers – who are hard at work getting ready for their Christmas Spectacular show.
The last thing she imagines is that she'll be ready to open her heart again. But will fate – and perhaps a sprinkle of Christmas magic – change her mind?
Genre: Contemporary Romance / Christmas
Publication: November 2021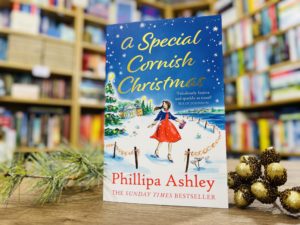 About the Author…
Phillipa Ashley is a Sunday Times best selling author of heart-warming romantic fiction. After studying English at Oxford University, she worked as a copywriter and journalist before writing her debut novel, Decent Exposure.
It won the Romantic Novelists Association New Writers Award and was filmed as a Lifetime TV movie starring Kristin Chenoweth and Josh Hopkins.
Her novels have sold almost a million copies and been translated into many languages. She is also an Audible number 1 best-seller.
Phillipa lives in an English village with her husband, has a grown-up daughter and loves nothing better than walking the Lakeland hills and swimming in Cornish coves.
Connect with the Author…
Facebook | Twitter | Instagram
Thanks to NetGalley and the publisher and author for a copy of this book in exchange for my honest review. Check out my blog for more book related posts and to enquire about future reviews, blog tours and cover reveals.
Are you looking for a Bookish environment to talk all things books? Then look no further than The Fiction Cafe – don't forget to answer the membership questions in order to join. We welcome Authors and Readers and there are lots of exciting happenings in the group!