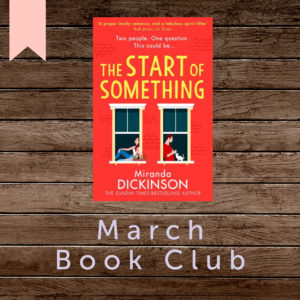 The Start of Something will be our March Book Club choice in 2022 – it was already pretty much decided before I read it but getting stuck into the book just reaffirmed the decision. Miranda Dickinson writes beautifully and this book is no exception. Counting myself lucky to have an advanced copy gifted to me by the publisher!
The most beautiful literary characters are within the pages of this book. I'm sure that they'll both be firm favourites in 2022 as others start to read this. I felt the emotionally raw situation of both Bethan and Lockie's situations – the authenticity of their characters and the characteristics that make them both very unique.
The storyline itself is as individual as the characters that make it work. Without going into anymore detail than the blurb gives away, the idea of striking up a conversation through letters in the window feels traditional, cosy and yet 'different.'
Miranda's books are a real treat because it's easy to fall in love with every single one and yet each time another book comes out she's developed her style and voice even further. I particularly love the music links in this book that Miranda references at the end – the soundtrack that inspired her to write. I had some of these songs in my head when reading, even before knowing what the list involved. I put it into a playlist and listened whilst writing my review too. It brought the book to life having a soundtrack and I really think that this book will translate extremely well to the big screen!
About the Book…
Two lonely people.
One note in the window.
And what happens when they reach out…
Lachlan Wallace is stuck at home after a car accident stalled his army career. With months of physiotherapy still to endure and only his rescue dog and cat for company, he's taken to gazing out of the window, watching the world spin on without him. And then he notices a vase of flowers on the windowsill of the apartment opposite his. Drawn to their hope and colour, he decides to reach out and sticks a message in his window…
Bethan Gwynne is a stranger in a new town. Bringing up her son Noah by herself, she is slowly rebuilding her life, but loneliness is one obstacle she has yet to overcome. She's intrigued by a glimpse of her neighbour in the apartment across from hers – and then, one evening, she sees a message in his window just for her:
WHAT ARE THOSE FLOWERS CALLED?
And so begins a love story of two people reaching out, daring to trust a stranger…
Genre: Contemporary Fiction / Romance
Publication: February 2022

About the Book Box…
It's been a dream to feature Miranda's books in our book boxes and one that we are so lucky to have come true! We'll be adding some special extras to this box nearer March and dispatch and will keep everyone posted but for now you can find out the box contents and what you will be getting by visiting this link here.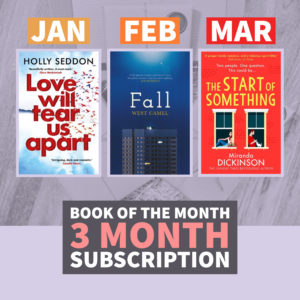 You can also order the box as part of our January, February and March three month subscription here.
About the Author…
Miranda Dickinson has always had a head full of stories. Coming from a creative family where stories and songs were always present, it was perhaps inevitable that she would end up adoring words. A songwriter for over 15 years, Miranda has successfully penned over thirty songs, delivering both live and recorded performances in a range of venues across the UK and Europe. Her first solo project album, About Time is due for release this year. To hear her music, visit www.mirandadickinson.com – and be sure to leave a message if you like it!
Connect with the Author…
Facebook | Twitter | Instagram | Website
Thanks to NetGalley and the publisher and author for a copy of this book in exchange for my honest review. Check out our blog for more book related posts and to enquire about future reviews, blog tours and cover reveals.
Are you looking for a Bookish environment to talk all things books? Then look no further than The Fiction Cafe – don't forget to answer the membership questions in order to join. We welcome Authors and Readers and there are lots of exciting happenings in the group!