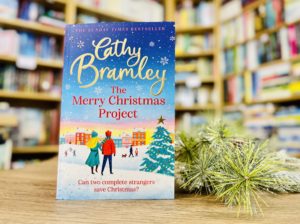 A truly beautiful first Christmas novel from Cathy Bramley – The Merry Christmas Project is heartfelt, warm, topical and well written. I'm never disappointed with Cathy's Summer books and it was a real treat having a festive read from her this year too.
It's hard to create a unique Christmas book with so many well-covered topics and love stories these days. But Cathy is one of the few Authors that can and she brings something a little different into her books.
There were some really emotional bits, other chapters that made me smile, and bits that just pulled at my heart strings. This book IS Christmas…in a book…a perfect festive read.
About the Box…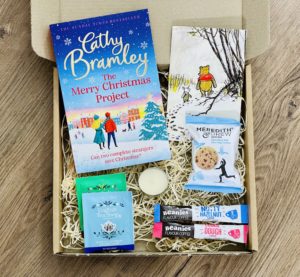 We have signed editions of this beautiful festive book in stock and dispatched in our book boxes full of treats and goodies! Just pop over to the shop and order here.
About the Book…
Christmas has always meant something special to Merry – even without a family of her own. This year, her heart might be broken but her new candle business is booming. The last thing she needs is another project – but when her hometown's annual event needs some fresh festive inspiration, Merry can't resist.
Cole loves a project too – though it's usually of the bricks and mortar variety. As a single dad, his Christmas wish is to see his kids again, so getting the new house finished for when they're all together is the perfect distraction.
But this Christmas, magic is in the air for these two strangers. Will it bring them all the joy they planned for… and take their hearts by surprise too?
After all, anything can happen at Christmas…
Genre: Christmas Fiction/ Contemporary Fiction
Publication: 28th October 2021

About the Author…
Cathy Bramley is the author of the best-selling romantic comedies Ivy Lane, Appleby Farm, Wickham Hall, Conditional Love and The Plumberry School of Comfort Food. She lives in a Nottinghamshire village with her family and a dog.
Her recent career as a full-time writer of light-hearted, romantic fiction has come as somewhat of a lovely surprise after spending eighteen years running her own marketing agency. However, she has been always an avid reader, never without a book on the go and now thinks she may have found her dream job!
Connect with the Author…
Facebook | Twitter | Instagram | Website
Are you looking for a Bookish environment to talk all things books? Then look no further than The Fiction Cafe – don't forget to answer the membership questions in order to join. We welcome Authors and Readers and there are lots of exciting happenings in the group! Our Book of the Month Read A Longs happen there too.