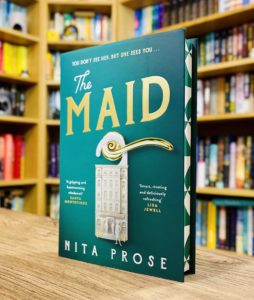 Molly Gray is my new favourite literary character and will, I'm sure, be one of the most talked about in 2022. In the meantime, I've never seen a more talked about proof – the hype around this book is to be fully believed!
It was a very easy five star read for me. Totally gripped from start to finish – this is a book about all the bits in between what's said and what isn't said. You'll know what I mean when you start reading it. It's about the blind spots, the red flags, we've all seen them and not seen them.
At the heart of the book is a 'cosy' mystery which is gripping but doesn't detract from all of the underlying messages. Wonderful wonderful book! It's a firm five star read, it has cosy mystery vibes and fans of Hazel Prior (Away with the Penguins) and Gail Honeyman (Eleanor Oliphant is Completely Fine) will most likely really enjoy Nita Prose's writing style whilst Agatha Christie, Richard Osman and Janice Hallett fans will enjoy the mystery element! It really has  something for everyone
Genre: Mystery
Publication: January 2022

About the Book…
I am your maid.
I know about your secrets. Your dirty laundry.
But what do you know about me?
Molly the maid is all alone in the world. A nobody. She's used to being invisible in her job at the Regency Grand Hotel, plumping pillows and wiping away the grime, dust and secrets of the guests passing through. She's just a maid – why should anyone take notice?
But Molly is thrown into the spotlight when she discovers an infamous guest, Mr Black, very dead in his bed. This isn't a mess that can be easily cleaned up. And as Molly becomes embroiled in the hunt for the truth, following the clues whispering in the hallways of the Regency Grand, she discovers a power she never knew was there. She's just a maid – but what can she see that others overlook?
About the Author…
Nita Prose is Vice President/Editorial Director at Simon & Schuster in Canada and has worked at several publishing houses during her career. The Maid is her debut novel. "A murder mystery set in a luxury hotel, THE MAID is equal parts fun and intrigue.
Connect with the Author…
Thanks to NetGalley and the publisher and author for a copy of this book in exchange for my honest review. Check out my blog for more book related posts and to enquire about future reviews, blog tours and cover reveals.
Are you looking for a Bookish environment to talk all things books? Then look no further than The Fiction Cafe – don't forget to answer the membership questions in order to join. We welcome Authors and Readers and there are lots of exciting happenings in the group! Our Book of the Month Read A Longs happen there too.