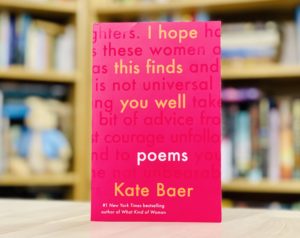 Less than eighty pages but every single one packs a punch more than a 1000 page tome could do. I Hope This Finds You Well will mean different things to different people at different stages. But if there's one thing you take from this book, it'll be that a beautiful message can be found in the most negative of paragraphs. What a wonderful thing to be able to take an awful message and turn it into something beautiful. A lesson to be learned for all of us.
About the Book…
The author of the #1 New York Times bestseller What Kind of Woman returns with a collection of found poems created from notes she received from followers, supporters and detractors – a ritual that reclaims the vitriol from online trolls and inspires readers to transform what is ugly or painful in their own lives into something beautiful.
'I'm sure you could benefit from jumping on a treadmill'

'Women WANT a male leader . . . It's honest to god the basic human playbook'
These are some of the thousands of messages that Kate Baer has received online. Like countless other writers – particularly women – with profiles on the internet, as Kate's online presence grew, so did the darker messages crowding her inbox. These missives from strangers have ranged from 'advice' and opinions to outright harassment.
At first, these messages resulted in an immediate delete and block. Until, on a whim, Kate decided to transform the cruelty into art, using it to create fresh and intriguing poems. These pieces, along with ones made from notes of gratitude and love, as well as from the words of public figures, have become some of her most beloved work.
I Hope This Finds You Well is drawn from those works: a book of poetry birthed in the darkness of the internet that offers light and hope. By cleverly building on the harsh negativity and hate women often receive – and combining it with heart-warming messages of support, gratitude, and connection, Kate Baer offers us a lesson in empowerment, showing how we too can turn bitterness into beauty.
Genre: Poetry
Publication: November 2021

About the Author…
Kate Baer is an author and poet based on the East Coast. Her first book, What Kind Of Woman, was a #1 New York Times Instant Bestseller and featured in publications such as Harper's Bazaar, Vogue.com, The Chicago Review, and Entertainment Weekly. Her work has been published in Literary Hub, Cup Of Jo, and The New York Times.
Connect with the Author…
Facebook | Twitter | Instagram | Website
Are you looking for a Bookish environment to talk all things books? Then look no further than The Fiction Cafe – don't forget to answer the membership questions in order to join. We welcome Authors and Readers and there are lots of exciting happenings in the group! Our Book of the Month Read A Longs happen there too.