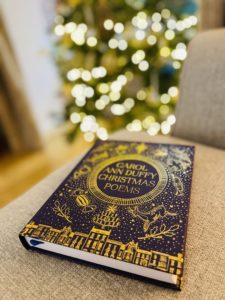 A beautiful book bringing together the works of Carol Ann Duffy from her time as Poet Laureate, for the first time ever. A decade, ten years of much-loved poems alongside beautiful illustrations – this is a book that will be brought out again and again over the Winter period.
As is the case with a lot of poetry, there will be favourites amongst this collection and ones that don't speak to you as much. This was a mixed book for me with lots of beautiful writing but the occasional piece that I didn't enjoy quite as much.
This stunning edition is signed by the Author, includes coloured end pages and beautiful gold foil front cover and dust jacket.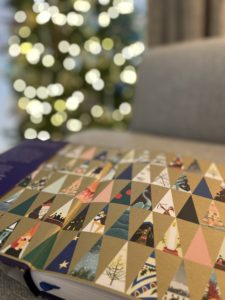 About the Book…
This beautifully illustrated collection brings together, for the first time, Carol Ann Duffy's much-celebrated festive poems.
For a decade, while she was Poet Laureate, Carol Ann Duffy gifted her thousands of readers an illustrated poem every Christmas, transporting them in one year to a seventeenth-century festival on the frozen Thames, in another to Western Front to witness the famous 1914 truce, then to a sweet winter's night in the South of France with Pablo Picasso and his small dog.
Christmas Poems showcases Duffy's bold and innovative voice, alongside gorgeous artwork from Rob Ryan, David De Las Heras and Lara Hawthorne, amongst others. These ten much-loved poems are gathered together for the first time in this compendium to make a perfect gift for old friends celebrating a decade's tradition or those experiencing the magic of Duffy's festive verse for the first time.
Genre: Poetry
Publication: 25th November 2021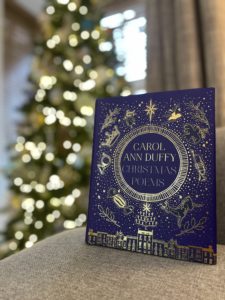 About the Author…
Dame Carol Ann Duffy, DBE, FRSL is a Scottish poet and playwright. She is Professor of Contemporary Poetry at Manchester Metropolitan University, and was appointed Britain's Poet Laureate in May 2009.
She is the first woman, the first Scot, and the first openly LGBT person to hold this position.
Her collections include Standing Female Nude (1985), winner of a Scottish Arts Council Award; Selling Manhattan (1987), which won a Somerset Maugham Award; Mean Time (1993), which won the Whitbread Poetry Award; and Rapture (2005), winner of the T. S. Eliot Prize.
Her poems address issues such as oppression, gender, and violence, in an accessible language that has made them popular in schools.