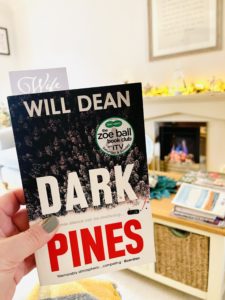 Chilling…atmospheric…this book is gripping, creepy and very very sinister. I loved it. As darkness fell on the days between Christmas and New Year, I was tucked up reading this, feeling the cold that is described in every chapter and even at some points experiencing the vulnerable feeling that the main character, Tuva, has.
Will Dean is not a new Author for me, having read and been utterly gripped by The Last Thing to Burn earlier this year. I'm very glad to discover this series though, and know that there are more books to come! Tuva is my new crime thriller favourite character, up there with Gina Harte from Carla Kovach's series, and Robert Hunter from Chris Carters books.
Towards the ending and that explosive conclusion, I was reading and holding my breath and I actually had to stop for a bit and take a break because I was so enthralled with the storyline and what would come next. I love a crime thriller that does that – completely immerses you in the story. I can't wait to see what happens next for Tuva…
About the Book Box…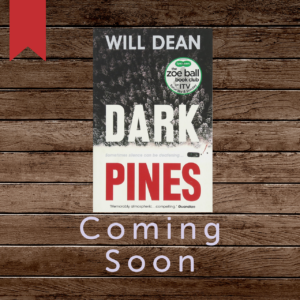 I loved this book so much that I knew we had to have it in stock – it's coming very soon so keep an eye out and you can pre-order here.
About the Book…
DARK PINES, the first in the Tuva Moodyson series, was published to huge critical acclaim in 2018, was shortlisted for Not the Booker prize, selected for Zoe Ball's TV Book Club and named as a Daily Telegraph Book of the Year
SEE NO EVIL
Eyes missing, two bodies lie deep in the forest near a remote Swedish town.
HEAR NO EVIL
Tuva Moodyson, a deaf reporter on a small-time local paper, is looking for the story that could make her career.
SPEAK NO EVIL
A web of secrets. And an unsolved murder from twenty years ago.
Can Tuva outwit the killer before she becomes the final victim? She'd like to think so. But first she must face her demons and venture far into the deep, dark woods if she wants to stand any chance of getting the hell out of small-time Gavrik.
Genre: Crime/Thriller/Mystery
Publication: 4th January 2018

About the Author…
Will Dean grew up in the East Midlands and had lived in nine different villages before the age of eighteen. His debut novel, Dark Pines, was selected for Zoe Ball's Book Club, shortlisted for the Guardian Not the Booker prize and named a Daily Telegraph Book of the Year.
Connect with the Author…
Are you looking for a Bookish environment to talk all things books? Then look no further than The Fiction Cafe – don't forget to answer the membership questions in order to join. We welcome Authors and Readers and there are lots of exciting happenings in the group! Our Book of the Month Read A Longs happen there too.