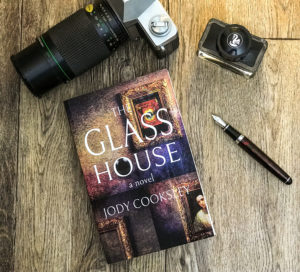 My thoughts…
I first discovered Julia Cameron's work when I ventured into a Photography exhibition many years ago on the Isle of Wight. Little did I know that I was, at the same time, walking straight into Julia Cameron's house – Dimbola Lodge. So I was extremely excited when I heard about Jody Cooksley's book – The Glass House – a novel based on the history of Julia Margaret Cameron.
Julia Cameron was never a vain artist and this book captures her personality and emotion perfectly. She, like many artists in creative fields, wanted only for her work to be seen and observed. Like many Authors, Painters, Photographers, Sculpters and more, she feared rejection and dislike and would rather have given her work away for free and be led to believe it was admired, than to put it up for sale and have nobody purchase it. Jody captures this personality and essence completely throughout the book and in particular towards the end. Of course, in the end Julia Cameron had nothing to fear. Her work is talked about even today.
From the vistas of Ceylon to the cliffs of Freshwater Bay – this book will take you on a journey through history and time, brushing shoulders with much loved literary greats along the way.
About the book…
What is a life without Art and Beauty? Not one that Julia chooses to live. And so she searches the world for both, discovering happiness through the lens of a camera.
A fictional account of pioneer photographer, Julia Margaret Cameron, and her extraordinary quest to find her own creative voice, The Glass House brings an exceptional photographer to life.
From the depths of despair, with her relationships strained and having been humiliated by the artists she has given a home to, Julia rises to fame, photographing and befriending many of the days most famous literary, artistic, political and scientific celebrities. But to succeed as a female photographer, she must take on the Victorian patriarchy, the art world and, ultimately, her own family. And the doubts are not all from others. As Julia's uneasy relationship with fame grows into a fear that the camera has taken part of her soul, her search leads her full circle, back to India, in her lifelong quest for peace and beauty. A poignant, elegant and richly detailed debut
Genre: Historical Fiction
Publication: October 2020

About the author…
Jody Cooksley is a writer and journalist with a love of great stories. She has always admired the work of Julia Margaret Cameron and is delighted to be sharing Julia's story. The Glass House is her first published novel and she's currently working hard to finish her second.
Jody works in communications and lives in Surrey with her husband and two sons.
Connect with the Author…
Thanks to the Author for a copy of this book in exchange for my honest review.