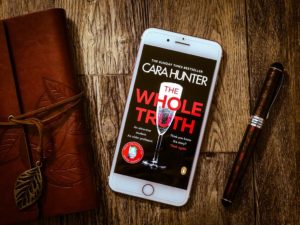 My thoughts…
Cara Hunter never skirts around a topic or concept and instead, throws herself into it. She tackles issues in her book such as sexism, gender, sexual abuse, post traumatic stress disorder and inequality and she tackles them well. Throughout this book she brings in concepts that many Authors would not necessarily know how to write about.
Cara's books are twisted, fast paced and devestating. The narrative is told in such a way that when a character doesn't let you in on something you are devestated. This particularly hit home in this book (and I can't go into more detail because it would be a spoiler) – but I felt betrayed! I even went backwards to see if I'd somehow missed a revealing chapter. That's how clever Cara is with her words and her characterisation.
Jane Corry (Author) said this, 'Cara writes with intelligent vivacity. You can almost hear her characters breathing from the page.' This is so so true and sums up Cara's writing style perfectly.
About the book…
When an Oxford student accuses one of the university's professors of sexual assault, DI Adam Fawley's team think they've heard it all before. But they couldn't be more wrong.
Because this time, the predator is a woman and the shining star of the department, and the student a six-foot male rugby player.
Soon DI Fawley and his team are up against the clock to figure out the truth. What they don't realise is that someone is watching.
And they have a plan to put Fawley out of action for good…
I've also read 'All The Rage' by Cara Hunter this year – check out my review here. The full series is listed in order below. I started the DI Fawley series with book four and will be going back to read one, two and three at some point but you really don't need to in order to understand the books. It's just an added bonus knowing there are more Cara Hunter books out there ready to be read!
Close To Home
In The Dark
No Way Out
All The Rage
The Whole Truth (Coming March 2021)
Genre: Crime Thriller
Publication: March 2021

About the author…
Cara Hunter is the author of the Sunday Times bestselling crime novels Close to Home, In the Dark, No Way Out and All the Rage, all featuring DI Adam Fawley and his Oxford-based police team. Close to Home was a Richard and Judy Book Club pick, was shortlisted for Crime Book of the Year in the British Book Awards 2019 and No Way Out was selected by the Sunday Times as one of the 100 best crime novels since 1945. Cara's novels have sold more than a million copies worldwide. Cara Hunter lives in Oxford, on a street not unlike those featured in her books.
Connect with the Author…
 Twitter | Instagram | Newsletter 
Thanks to NetGalley and the publisher and author for a copy of this book in exchange for my honest review.