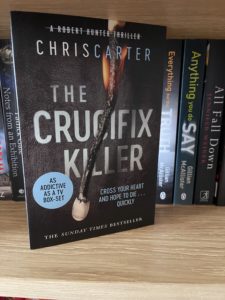 My thoughts…
Twelve years late to the party but finally… FINALLY! The series has commenced for me. The Crucifix Killer by Chris Carter is the first in a series of now twelve books with more on the way, focusing on Detective Rober Hunter. If you're looking for a new crime series to fall in love with then this is the one for you. Warning… you need a strong stomach though!
I read this as a Buddy read and I think we pretty much read it in a weekend. It was so good from start to finish but in particular as the storyline unravelled and the pace picked up, it became more and more addictive.
For fans of descriptive, well-researched crime scenes written by an Author who has a lot of insight and knowledge into the psychology and societal aspects of crime, the Robert Hunter series is not one to miss out on.
About the Book…
When the body of a young woman is discovered in a derelict cottage in the middle of Los Angeles National Forest, Homicide Detective Robert Hunter finds himself entering a horrific and recurring nightmare. Naked, strung from two parallel wooden posts, the victim was sadistically tortured before meeting an excruciatingly painful death.
All the skin has been ripped from her face – while she was still alive. On the nape of her neck has been carved a strange double-cross: the signature of a psychopath known as the Crucifix Killer. But that's impossible. Because two years ago, the Crucifix Killer was caught and executed. Could this therefore be a copycat killer? Or could the unthinkable be true?
Is the real killer still out there, ready to embark once again on a vicious and violent killing spree, selecting his victims seemingly at random, taunting Robert Hunter with his inability to catch him? Hunter and his rookie partner are about to enter a nightmare beyond imagining.
Genre: Crime/Thriller
Publication: 2009

About the Author…
Chris Carter is a top bestselling author in the United Kingdom, whose books include An Evil Mind, One By One, The Death Sculptor, The Night Stalker, The Executioner, and The Crucifix Killer.
Chris Carter worked as a criminal psychologist for several years before moving to Los Angeles, where he swapped the suits and briefcases for ripped jeans, bandanas and an electric guitar.
After a spell playing for several well known glam rock bands, he decided to try his luck in London, where he was fortunate enough to have played for a number of famous artists. He toured the world several times as a professional musician.
Connect with the Author…
Facebook | Instagram | Website
Are you looking for a Bookish environment to talk all things books? Then look no further than The Fiction Cafe – don't forget to answer the membership questions in order to join. We welcome Authors and Readers and there are lots of exciting happenings in the group! Our Book of the Month Read A Longs happen there too.