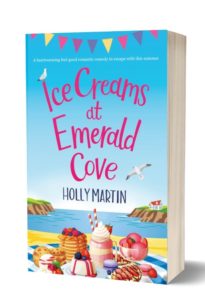 My thoughts…
Escape to the Cornish coast this spring with a trip to the beautiful Emerald Cove, where the sea sparkles in the sunshine, the sand glitters like gold, and true love is in the air. From the bestselling author of Sunrise over Sapphire Bay comes this gorgeously romantic and uplifting tale.
This was a lovely read that transported me to sunnier and warmer climates and helped me imagine I could travel in a time when it's not possible! This book will make you hungry and eager to try out some of the creations that are so well written about! The characters are warm and loveable and the underlying story is heart-warming and emotional.
About the Book…
Skye Philips and Jesse Hamilton have a complicated relationship. They've been neighbours, best friends and even briefly married. But ever since Skye returned to the beautiful shores of Jewel Island to help her sisters Aria and Clover run their family hotel, she doesn't know where she stands with Jesse.
When they're together the chemistry between them sizzles, but with Jesse living in Canada and Skye on the Cornish island she calls home, they've kept things casual. Till now…
Jesse is coming to Jewel Island for the annual Pudding Parade and Skye knows this is her chance to tell him how she really feels. But putting her heart on the line isn't easy when it's been broken in the past. Will Jesse return her love? Or will she lose him for good?
Everything she's ever wanted can be hers if she's willing to take the chance, but is Skye brave enough to risk her heart once again?'
Genre: Romance
Publication: March 2021 
About the Author…
Holly lives in a little white cottage by the sea. She studied media at university which led to a very glitzy career as a hotel receptionist followed by a even more glamorous two years working in a bank. The moment that one of her colleagues received the much coveted carriage clock for fifteen years' service was the moment when she knew she had to escape. She quit her job and returned to university to train to be a teacher. Three years later, she emerged wide eyed and terrified that she now had responsibility for the development of thirty young minds. She taught for four years and then escaped the classroom to teach history workshops, dressing up as a Viking one day and an Egyptian High Priestess the next. But the long journeys around the UK and many hours sat on the M25 gave her a lot of time to plan out her stories and she now writes full time, doing what she loves.
Holly has been writing for 8 years. She was shortlisted for the New Talent Award at the Festival of Romance. Her short story won the Sunlounger competition and was published in the Sunlounger anthology. She won the Carina Valentine's competition at the Festival of Romance with her novel The Guestbook. She was shortlisted for Best Romantic Read, Best eBook and Innovation in Romantic Fiction at the Festival of Romance. She is the bestselling author of 26 books selling over a million books worldwide. Holly's books have been translated into French, German, Italian, Dutch, Bulgarian, Estonian, Turkish and Russian.
Connect with the Author…
Facebook | Twitter | Instagram | Pre-order
Thanks Holly for a copy of this book. Check out my blog for more book related posts and to enquire about future reviews, blog tours and cover reveals.
Are you looking for a Bookish environment to talk all things books? Then look no further than The Fiction Cafe – don't forget to answer the membership questions in order to join. We welcome Authors and Readers and there are lots of exciting happenings in the group! Our Book of the Month Read A Longs happen there too.