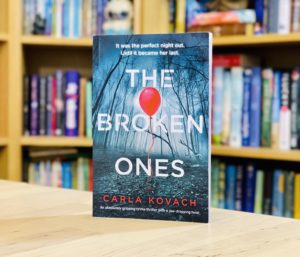 I say it every single time but… this is book eight and it's the BEST so far! Carla Kovach gets darker, more sinister, and more twisted – and this book was completely gripping. This was a really fast-paced book with so many tense moments and red herrings. I love how there are more back stories coming out for other main characters too. Onwards to the next one – by far my favourite crime thriller series!
About the Book…
Amber applies a dash of red lipstick and checks herself out in the mirror before heading out on a date. 'Don't wait up!' she calls to her housemates as she leaves. But Amber never returns home that night. Amber Slater is never seen again.
The last person to see Amber was her housemate. He remembers everything she was wearing that night. He watched her leave. He listened to every word of her phone conversation with her friend before she left. He knows more about Amber's movements than anyone.
At university, she is well-liked by her fellow students and teachers. Her tutor's voice shakes when he is questioned by the police. Some say he and Amber were very close. Too close. Some say his wife had just found out about their relationship.
The manager at the restaurant where Amber was supposed to eat that night says she didn't show up. Yet the chef at the restaurant is overly chatty about her. He wasn't working that night. He wasn't answering his phone. Nobody knows where he was when Amber went missing.
Rumours begin to circulate about Amber, it seems that everyone has a story to tell. But when the young girl's lifeless body is found in a local park, with her blue lips glued shut, the gossip suddenly goes quiet. As the police trace the last few hours of Amber's life, it seems that the girl simply vanished on her way to catch her bus. And when another woman goes missing in the dead of night, it's a race against time to find her before she too is silenced forever.
Genre: Mystery / Thriller
Publication: March 2021

About the Author…
Carla Kovach was born in Birmingham, UK and now resides in Redditch, Worcestershire. Author of supernatural drama 'Flame,' psychological thriller 'To Let,' crime thriller 'Whispers Beneath the Pines, and romantic comedy 'Meet Me at Marmaris Castle.' Carla also writes stage and screen plays, some of which have been produced in the Worcestershire area.
Connect with the Author…
Facebook | Twitter | Instagram | Website
Are you looking for a Bookish environment to talk all things books? Then look no further than The Fiction Cafe – don't forget to answer the membership questions in order to join. We welcome Authors and Readers and there are lots of exciting happenings in the group!