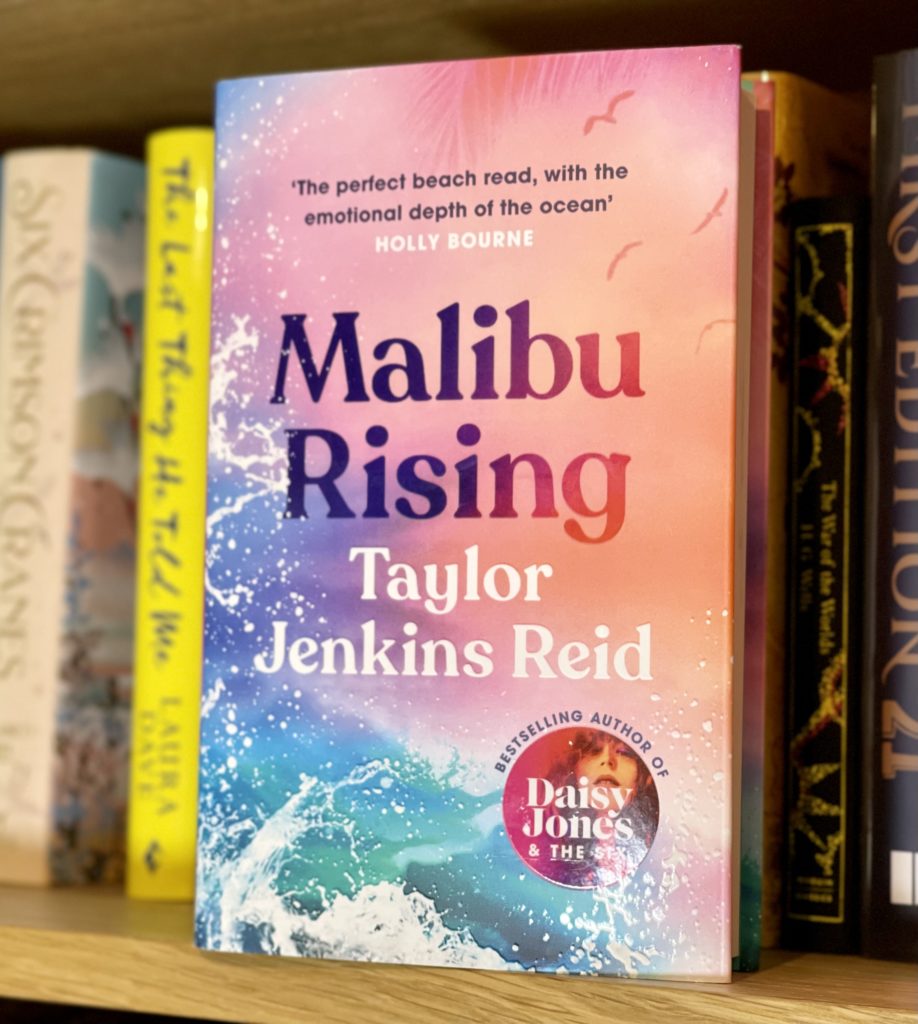 When I say this was read in a day… I really do mean it! A stormy Sunday was spent curled up with this, stopping only for replenishing cups of tea. Taylor Jenkins Reid. Wow. The absolutely storm that her writing is kicking up is completely and totally justified! From start to finish the lives of the Riva family had me hooked.
Taylor Jenkins Reid writing style reminds me so much of Elin Hilderbrand's or Diane Chamberlain's. There's an easy flow, an intimacy within the pages that you don't get from every Author. It's partly why I was so hooked and also because the beginning starts with the end.. and, well, what a hook to get you in that way!
Taylor can paint a scene, write compelling characters and she knows exactly what makes a compulsive and readable story. The characters are flawed, unique and likeable all at the same time. And there are a LOT of characters in this book, it could easily play out on the big screen as a movie and be just as chaotic but simultaneously exciting. Brilliant brilliant book!
About the Book…
A lifetime holding it together.
One party will bring it crashing down.
Malibu: August, 1983. It's the day of Nina Riva's annual end-of-summer party, and anticipation is at a fever pitch.
Everyone wants to be around the famous Rivas: Nina, the talented surfer and supermodel; brothers Jay and Hud, one a championship surfer, the other a renowned photographer; and their adored baby sister, Kit. Together, the siblings are a source of fascination in Malibu and the world over-especially as the offspring of the legendary singer, Mick Riva.
By midnight the party will be completely out of control.
By morning, the Riva mansion will have gone up in flames.
But before that first spark in the early hours before dawn, the alcohol will flow, the music will play, and the loves and secrets that shaped this family's generations will all come bubbling to the surface.
Malibu Rising is a story about one unforgettable night in the life of a family: the night they each have to choose what they will keep from the people who made them… and what they will leave behind.
Genre: Contemporary Fiction
Publication: Random House – 27th May 2021
About the Author…
After studying at Emerson College in Boston, Taylor Jenkins Reid worked in film production and the entertainment industry before she became a full-time writer. Her debut novel Forever, Interrupted came out in 2013, and was followed in quick succession by After I Do (2014), Maybe in Another Life (2015) and One True Loves (2016).
It was her 2017 novel, The Seven Husbands of Evelyn Hugo, however, that truly rocketed Jenkins Reid onto the bestseller lists and has created an ever-growing legion of fans for the author on TikTok and beyond. The book takes inspiration from glamour of Old Hollywood, featuring a 79-year-old movie star who decides to give a rare interview to a young female reporter. Jenkins Reid's next novel, Daisy Jones and the Six (2019) tells the story of a fictional 1970s rock band, while her 2021 Malibu Rising, set amidst the glitz and excess of 1980s California, delivers a dazzling portrait of a family whose fortunes are changed by one fatal night.
Connect with the Author…
Facebook | Twitter | Instagram | Website
Are you looking for a Bookish environment to talk all things books? Then look no further than The Fiction Cafe – don't forget to answer the membership questions in order to join. We welcome Authors and Readers and there are lots of exciting happenings in the group! Our Book of the Month Read A Longs happen there too.