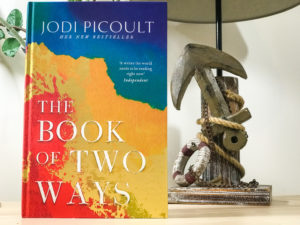 My thoughts…
I actually listened to this on Audiobook although I have the signed copy (because it's Jodi, and where I can I try and get a signed edition!). I was quite glad of the format that I chose to read this book in as I think I would have skimmed a lot of text otherwise. Listening to this book really made me listen. I heard every single word and I learnt so much about Egypt. Also, it helped with the pronounciation of those Egyptian words!
This is a beautiful book of 'What If?' It's built on the foundations of there being an alternate You and how your life could very much be going down a different path right now had something small and seemingly unsignificant happened at a certain point.
I've been reading the existing reviews about this book and noticed that Jodi Picoult has been heavily criticised for shying away from her usual style of tackling controversial topics. When you read this book though, you'll realise that she tackles a topic and a concept that many of us will struggle with at some point in our lives. Just because it's not purely about race, gender or mental health – doesn't make it any less relevant. I won't spoil the book by diving into the topics here though.
Also…that ending has to be talked about. Most surprisingly because I didn't see issue with it at all. I thought, that when the ending happened, I knew the outcome and the choices made. I was surprised to see so many peope criticising the Author for not laying it out in black and white. For those that have read this book – what do you think is the answer? I'm intrigued to know…
About the Book…
From the #1 New York Times bestselling author of Small Great Things and A Spark of Light comes a riveting novel about the choices that change the course of our lives.
Everything changes in a single moment for Dawn Edelstein. She's on a plane when the flight attendant makes an announcement: prepare for a crash landing. She braces herself as thoughts flash through her mind. The shocking thing is, the thoughts are not of her husband, but a man she last saw fifteen years ago: Wyatt Armstrong.
Dawn, miraculously, survives the crash, but so do all the doubts that have suddenly been raised. She has led a good life. Back in Boston, there is her husband, Brian, her beloved daughter, and her work as a death doula, where she helps ease the transition between life and death for patients in hospice.
But somewhere in Egypt is Wyatt Armstrong, who works as an archaeologist unearthing ancient burial sites, a job she once studied for, but was forced to abandon when life suddenly intervened. And now, when it seems that fate is offering her second chances, she is not as sure of the choice she once made.
After the crash landing, the airline ensures the survivors are seen by a doctor, then offers transportation wherever they want to go. The obvious option for Dawn is to continue down the path she is on and go home to her family. The other is to return to the archaeological site she left years before, reconnect with Wyatt and their unresolved history, and maybe even complete her research on The Book of Two Ways–the first known map of the afterlife.
As the story unfolds, Dawn's two possible futures unspool side by side, as do the secrets and doubts long buried beside them. Dawn must confront the questions she's never truly asked: What does a life well-lived look like? When we leave this earth, what do we leave behind? Do we make choices…or do our choices make us? And who would you be, if you hadn't turned out to be the person you are right now?
Genre: Contemporary Fiction
Publication: September 2020

About the Author…
Jodi Picoult is the author of twenty-six novels, including the #1 New York Times bestsellers Small Great Things, A Spark of Light, Leaving Time, The Storyteller, Lone Wolf, Between the Lines, Sing You Home, House Rules, Handle with Care, Change of Heart, Nineteen Minutes, and My Sister's Keeper. She lives in New Hampshire with her husband and three children.
Connect with the Author…
Are you looking for a Bookish environment to talk all things books? Then look no further than The Fiction Cafe – don't forget to answer the membership questions in order to join. We welcome Authors and Readers and there are lots of exciting happenings in the group! Our Book of the Month Read A Longs happen there too.