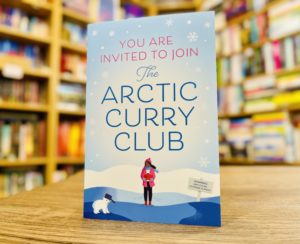 Firstly, this is a great example of not judging a book by its cover! I mean, it is a stunning cover of course but it fits a specific genre idea and actually, there are some (good) hidden surprises within the storyline of this novel that tip this into writing that spans several genres.
It's well researched, drawing upon the Authors own experiences of the Arctic and Indian Cuisine (as well as the other themes within the book), to make this very authentic. You'll want to create some recipes after this, perhaps even some from the book (thank you Avon for sending us one to try!). You might also have a yearning for a frosty, chilly adventure to the Arctic… who knows.
I really liked the characters, flaws and all. There was a very realistic, honest and sometimes raw accountability within the pages of the book and I loved that. I also had to remind myself that it's a debut. It's written with a style that seems comfortable and at ease.
I would describe this book as cosy, comforting and a brilliant escape.  At the same time it's more than just those things, but you'll have to read it to find out more…
About the Book…
'For my whole life I had been looking for home. But why would that be in a place that I'd left? Perhaps I had to keep moving forward in order to find it…'
Soon after upending her life to accompany her boyfriend Ryan to the Arctic, Maya realises it's not all Northern Lights and husky sleigh rides. Instead, she's facing sub-zero temperatures, 24-hour darkness, crippling anxiety – and a distant boyfriend as a result.
In her loneliest moment, Maya opens her late mother's recipe book and cooks Indian food for the first time. Through this, her confidence unexpectedly grows – she makes friends, secures a job as a chef, and life in the Arctic no longer freezes her with fear. You'll run through a whole host of emotions – frustration, anger, sadness and hope.
But there's a cost: the aromatic cuisine rekindles memories of her enigmatic mother and her childhood in Bangalore. Can Maya face the past and forge a future for herself in this new town? After all, there's now high demand for a Curry Club in the Arctic, and just one person with the know-how to run it…
A tender and uplifting story about family, community, and finding where you truly belong – guaranteed to warm your heart despite the icy setting!
Genre: Contemporary Fiction
Publication: December 2021

About the Author…
Dani Redd has an MA in Creative Writing and a PhD in Creative and Critical writing from the University of East Anglia. She studied representations of islands in postcolonial and feminist fiction. This involved research trips to some of Europe's remoter islands, including Spitsbergen, in the Arctic Circle.
Connect with the Author…
Thanks to NetGalley and Avon and author for a copy of this book in exchange for our honest review. Check out my blog for more book related posts and to enquire about future reviews, blog tours and cover reveals.
Are you looking for a Bookish environment to talk all things books? Then look no further than The Fiction Cafe – don't forget to answer the membership questions in order to join. We welcome Authors and Readers and there are lots of exciting happenings in the group! Our Book of the Month Read A Longs happen there too.