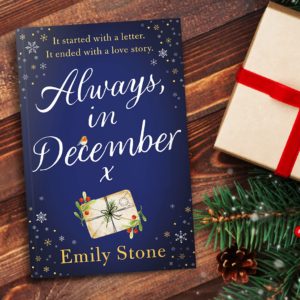 This is a tricky book to summarise in any one particular genre and was largely promoted as romance and christmas fiction of which it isn't really either. I would say it's contemporary because there is some romance, but if you're looking for full on mushy stuff then that's not happening with this book. There's some domestic drama, family secrets and a few twists that were nicely done to make this a refreshing read.
There's a really strong emotional pull in this book – the characters and storyline are well written and that combines with the Authors style to create something special. There were parts that were predictable but that didn't matter – and that's the fun of it really. Josie and Max are characters that you absolutely will fall in love with. It's hard to say more without giving away the storyline!
About the Book…
It started with a letter. It ended with a love story.
Every December, Josie posts a letter from her home in London to the parents she lost on Christmas night many years ago. Each year, she writes the same three words: Missing you, always. But this year, her annual trip to the postbox is knocked off course by a bicycle collision with a handsome stranger–a stranger who will change the course of Josie's life.
Josie always thought she was the only one who avoided the Christmas season, but this year, Max has his own reasons for doing the same–and coincidence leads them to spending the holiday together. Aglow with new love, Josie thinks this might be the start of something special.
Only for Max to disappear without saying goodbye.
Over the course of the next year, Max and Josie will find that fate continues to bring them together in places they'd never expect. New York City. Edinburgh. The quiet English countryside. And it turns out, Max had every reason to leave and every reason to stay. But what does fate hold for Josie and Max as Christmas approaches again?
A devastating, romantic, life-affirming love story, Always, in December will stay with readers long after they've finished the last page.
Genre: Contemporary Fiction
Publication: October 2021

About the Author…
Emily Stone lives and works in the UK and wrote her first novel, Always, in December, in an old Victorian manor house with an impressive literary heritage.
Connect with the Author…
Thanks to NetGalley and the publisher and author for a copy of this book in exchange for our honest review. Check out my blog for more book related posts and to enquire about future reviews, blog tours and cover reveals.
Are you looking for a Bookish environment to talk all things books? Then look no further than The Fiction Cafe – don't forget to answer the membership questions in order to join. We welcome Authors and Readers and there are lots of exciting happenings in the group! Our Book of the Month Read A Longs happen there too.