Best way to spend a Saturday?! In a bookshop of course! What's even better is when the bookshop has a cosy Yurt on site, tasty cake and of course, amazing company. We took a mini trek up to Astley Book Farm this weekend to meet up with some fellow admins of The Fiction Cafe Book Club. Mr Tea Leaves was an honorary guest as he did all of the driving!
Astley hold around 75,000 books! The range includes antiquarian, rare and out-of-print books, a huge range of fiction, comprehensive non-fiction sections, Children's Hayloft and the Ten Bob Barn. New books are added daily too – both to the shelves and online. It's quite good that they are really, I'm sure between us we all managed to purchase a shelf or two of books.
The book farm is open almost everyday of the year from 10am – 5pm. You can even take books in to sell to them – but you need to ring ahead for those. We spent a good hour browsing the shelves, in between eating cake of course! There are lots of book nooks, little places to sit and of course, The Snug. Everything was very cosy, well stocked and well organised.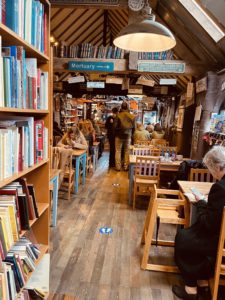 Stock on the shelves included first editions (some under lock and key because they are very rare!) and special classics as well as some newly published books and older secondhand publications too.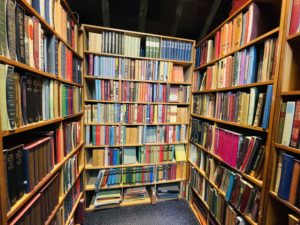 There's a cosy cafe on-site serving delicious food, cakes and hot dishes. In fact they've scoured the bakeries of Warwickshire to find the finest cakes to serve – they were pretty tasty! Amongst us we sampled the Carrot Cake, Chocolate Cake, Rainbow Cake and more! There was hot soup on the menu and pizza as well as toasted sandwiches.
We chose to sit in the Yurt out in the courtyard – it sounds like it might be a bit chilly but rest assured it wasn't! The wood burner in the middle of the Yurt kept us all very toasty and there was a beautiful woodsmoke smell in the air.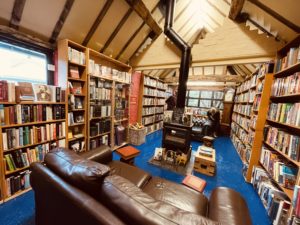 So what did we purchase? Well it's was tricky to find something but rest assured that a couple of years ago before we started this business we would have found plenty to come home with. Nevertheless we still came home with some books! Mrs Tea Leaves has decided to start collecting the Wordsworth Collector's Editions and these are the first two to add to the collection…
So if you're looking for your next bookshop visit – an afternoon at Astley Book Farm should definitely be on your list! You can find them on Facebook too – just visit this link.