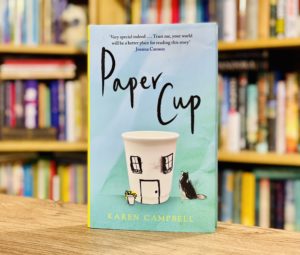 How often do we get our first impressions of someone else through another? The start of this book introduces us to Kelly, homeless and living on the streets, through the eyes of the hen party that stumble across her.
We meet Kelly in chapter one, through other peoples eyes. But we get to truly know her story through every single page of the book.
It's raw, honest, humbling and, at times, hilarious. The way that Karen writes will pull you right in so that by the final pages, you will feel as if you've walked every step of Kelly's journey.
About the Book
What if going back means you could begin again?
Rocked by a terrible accident, homeless Kelly needs to escape the city streets of Glasgow. Maybe she doesn't believe in serendipity, but a rare moment of kindness and a lost ring conspire to call her home. As Kelly vows to reunite the lost ring with its owner, she must return to the small town she fled so many years ago.
On her journey from Glasgow to the south-west tip of Scotland, Kelly encounters ancient pilgrim routes, hostile humans, hippies, book lovers and a friendly dog, as memories stir and the people she thought she'd left behind forever move closer with every step.
Full of compassion and hope, Paper Cup is a novel about how easy it can be to fall through the cracks, and what it takes to turn around a life that has run off course.
Genre: Modern & Contemporary
Publication: June 2022
About the Author
Karen Campbell is a Scottish novelist and former police officer. She is the author of seven novels, most recently The Sound of the Hours, which was a Waterstones Scottish Book of the Month. She is a recipient of the Best New Scottish Writer Award and has led workshops for the Scottish Refugee Council, Amnesty, Moniack Mhor and Scottish PEN, among others. She has written for BBC Radio 3, Edinburgh International Book Festival and Glasgow Women's Library, and was recently Writer in Residence at Dumfries and Galloway Council. She lives in Galloway, Scotland.
Purchase the Book
If you like the sound of Paper Cup by Karen Campbell then it is available on our store where you can purchase it in one of our book boxes or on it's own. You can find the book here.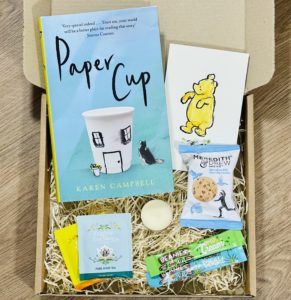 Connect with the Author
Are you looking for a Bookish environment to talk all things books? Then look no further than The Fiction Cafe – don't forget to answer the membership questions in order to join. We welcome Authors and Readers and there are lots of exciting happenings in the group! Our Book of the Month Read A Longs happen there too.