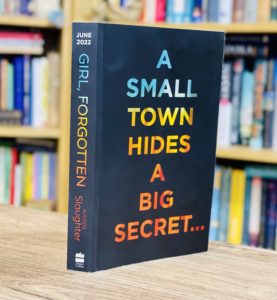 First of all, this is book two in the Andrea Oliver series but that really didn't matter at all to me. I've not read book one but didn't feel that 'reading a series in the wrong order' sort of feeling. Having read a few reviews I think the main character is actually much more likeable in book two – so that's a result!
The book focuses on a cold case that has links to Andrea's Father – a crime series with both the personal and the public element of crime is always a gripping one to read and the storylines unravel really well. The strength and the vulnerability of Andrea in a brand new role with pressures from all sides, is clear.
I read an advanced copy and there were a couple of plot elements that frustrated me that have hopefully been picked on final edits but once the story progressed – they didn't detract too much. Another great book from Karin Slaughter.
Thank you to Harper Collins for an advanced copy of the book.
About the Book…
A girl with a secret…
Longbill Beach, 1982. Emily Vaughn gets ready for prom night, the highlight of any high school experience. But Emily has a secret. And by the end of the evening, she will be dead.
A murder that remains a mystery…
Forty years later, Emily's murder remains unsolved. Her friends closed ranks, her family retreated inwards, the community moved on. But all that's about to change.
One final chance to uncover a killer…
Andrea Oliver arrives in town with a simple assignment: to protect a judge receiving death threats. But her assignment is a cover. Because, in reality, Andrea is here to find justice for Emily – and to uncover the truth before the killer decides to silence her too…
Genre: Psychological Thriller, Crime & Mystery
Publication: June 2022
About the Author…
Karin Slaughter is the author of more than twenty instant New York Times bestselling novels, including the Edgar–nominated Cop Town and standalone novels Pretty Girls, The Good Daughter, and Pieces of Her. She is published in 120 countries with more than 40 million copies sold across the globe. Pieces of Her is a #1 Netflix original series starring Toni Collette, and False Witness, the Grant County, and Will Trent series are in development for television. Slaughter is the founder of the Save the Libraries project – a non-profit organization established to support libraries and library programming. A native of Georgia, she lives in Atlanta.
Connect with the Author…
Facebook | Instagram | Website
Are you looking for a Bookish environment to talk all things books? Then look no further than The Fiction Cafe – don't forget to answer the membership questions in order to join. We welcome Authors and Readers and there are lots of exciting happenings in the group! Our Book of the Month Read A Longs happen there too.