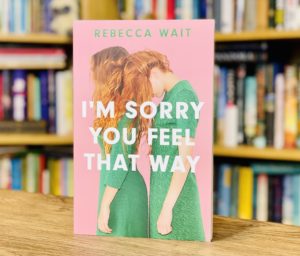 This was such a captivating read – exploring family dynamics and dysfunction and the ability of our childhoods to shape our future connections and encounters. Multiple points of view are shared in the book and this really makes it quite a rarity!
This book is a brilliant insight into the human mind, the tendency to hold onto things and how they ultimately control our behaviour and personality.
Real characters are at the centre of this compelling novel – lost, hopeless and bereft but at times also passionate, full of courage and strength. Fragmented families are at the heart of this book and Rebecca Wait explores the fractures that cause the breakages with heart, humour and emotion. It's emotionally exhausting but that seems to be the purpose!
About the Book
For Alice and Hanna, saint and sinner, growing up is a trial. There is their mother, who takes a divide-and-conquer approach to child-rearing, and their father, who takes an absent one. There is also their older brother Michael, whose disapproval is a force to be reckoned with. There is the catastrophe that is never spoken of, but which has shaped everything.
As adults, Alice and Hanna must deal with disappointments in work and in love as well as increasingly complicated family tensions, and lives that look dismayingly dissimilar to what they'd intended. They must look for a way to repair their own fractured relationship, and they must finally choose their own approach to their dominant mother: submit or burn the house down. And they must decide at last whether life is really anything more than (as Hanna would have it) a tragedy with a few hilarious moments.
Thank you to the publisher for an advanced copy of this proof.
Genre: Modern & Contemporary
Publication: July 2022
About the Author
Rebecca Wait is the author of three critically acclaimed novels, 'The View on the Way Down' (2013), 'The Followers' (2015) and 'Our Fathers' (2020), which was a Guardian Book of the Year and Waterstones Thriller of the Month. Her fourth novel, 'I'm Sorry You Feel That Way', will be published July 2022. Rebecca lives in London.
Connect with the Author
Thanks to Riverrun for this copy in exchange for review. Are you looking for a Bookish environment to talk all things books? Then look no further than The Fiction Cafe – don't forget to answer the membership questions in order to join. We welcome Authors and Readers and there are lots of exciting happenings in the group! Our Book of the Month Read A Longs happen there too.