Grab your 2022 book wishlists (and leave a little space on your Christmas wishlists too) because we've got some exciting proofs to share. Some of these books are already out in the world but many are coming in 2022! Here's a roundup of what we've received in November. Keep an eye on the blog, we will be sharing our reviews as soon as we've finished reading. Sharing these proofs (both physical and e-book) means that we can be held accountable and you can completely ask us what we thought of them in around a months time! Must not get distracted by other shiny books…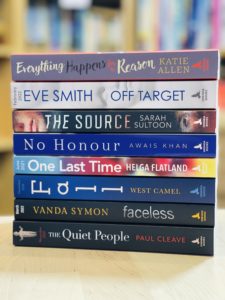 Orenda Books
Huge thanks to Karen at Orenda for totally understanding Kathryn's brief – trying to find something different, out of the box, and similar to Louise Beech! We discovered Louise's books earlier this year and will be lining her newest publication up as Book of the Month in 2022. So we just know that her publisher, Orenda Books, will have some other gems for us to discover. Karen sent us this EPIC stack of books to work through…we've already chosen one as a book club pick next year… can you guess which?!
Fall by West Camel – December 2021
Faceless by Vanya Symon – March 2022
Off Target by Eve Smith – February 2022
The Source by Sarah Sultoon – April 2021
No Honour by Awais Khan – August 2021
One Last Time by Helga Flatand – June 2021
Everything Happens for A Reason by Katie Allen – April 2021
The Twyford Code by Janice Hallett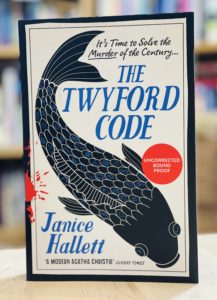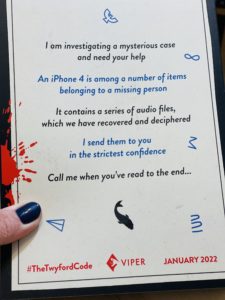 Still getting over the glorious intricacies of The Appeal by Janice Hallett (signed editions still available in our shop) – we have been lucky enough to get our hands on an advanced copy of The Twyford Code coming in January 2022. Huge thanks to Viper Books and to Janice – because this is a signed proof! Keep an eye because we'll be looking to this title as a possible book club feature in 2022.
Tomorrow, and Tomorrow, and Tomorrow by Gabrielle Zevin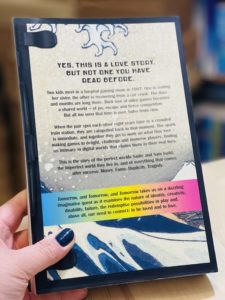 Credit has to go, not only to Gabrielle for an absolutely amazing book, but also to her publisher for an incredible proof campaign AND to Sally Felton for designing this. I mean… how much more creative can you get?! I honestly thought I'd stepped back in time and been sent a VHS! This book isn't even out yet and it's already in development as a major motion picture. How… incredible. I'll be letting you know my thoughts on this as soon as possible! Head to our TikTok account to see a video of how incredible this proof is…
E-Book Proofs
Not forgetting of course the wonderful proofs that we're sent electronically too! Some via Netgalley and some direct from the publishers. Here's a little insight into what we have coming up to read…
The Maid by Nita Prose from Avon Books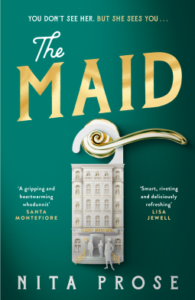 I am your maid.
I know about your secrets. Your dirty laundry.
But what do you know about me?
Molly the maid is all alone in the world. A nobody. She's used to being invisible in her job at the Regency Grand Hotel, plumping pillows and wiping away the grime, dust and secrets of the guests passing through. She's just a maid – why should anyone take notice?
But Molly is thrown into the spotlight when she discovers an infamous guest, Mr Black, very dead in his bed. This isn't a mess that can be easily cleaned up. And as Molly becomes embroiled in the hunt for the truth, following the clues whispering in the hallways of the Regency Grand, she discovers a power she never knew was there. She's just a maid – but what can she see that others overlo
Walking on Sunshine by Giovanna Fletcher from Michael Joseph UK
After Mike loses Pia, his partner of seventeen years, their best friends Vicky and Zaza try to help pick up the pieces.
But though Pia's gone, she left a plan. A list of loving instructions to help Mike and her friends come to terms with their loss.
And they're each going to need it . . .
Just-engaged Zaza fears committing any further.
Exhausted mother and wife Vicky has lost sight of herself.
While Mike just feels all the colour has gone from his life.
When the list sends them trekking to Peru, where high mountains and sweltering rainforests push them to the brink, all they have to guide them is their faith in Pia and in themselves.
But will they learn that anything is possible when you're walking on sunshine?

Hide by Nell Pattison from Avon Books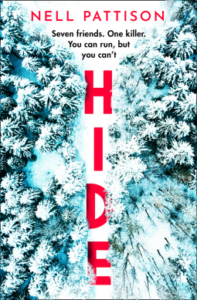 Seven friends. One killer. You can run, but you can't hide…
The Boxing Day hike is meant to bring their nature group together.
Emily, the sister who never lets her hearing loss hold her back.
Lauren, the sister who always feels a step behind.
Morna, who doesn't get on with Lauren.
Ben, whose feelings for Emily border on obsession.
Dan, the quiet newcomer to the group.
Kai, who isn't just on the hike to enjoy the wildlife.
And Alec, the one who knows all their secrets.
As the sun sets, a gunshot rings out on the nature reserve.
One of the seven is dead. And one of their number killed them…
The Start of Something by Miranda Dickinson from HQ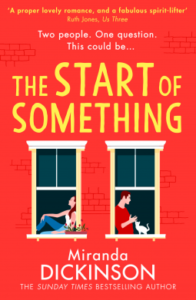 Aready sneakily started this one in amongst other books and completely hooked (as I knew I would be). This is coming up in 2022 as a signed edition for our Book of the Month choice. We'll let you know more very soon…
Two lonely people.
One note in the window.
And what happens when they reach out…
Lachlan Wallace is stuck at home after a car accident stalled his army career. With months of physiotherapy still to endure and only his rescue dog and cat for company, he's taken to gazing out of the window, watching the world spin on without him. And then he notices a vase of flowers on the windowsill of the apartment opposite his. Drawn to their hope and colour, he decides to reach out and sticks a message in his window…
Bethan Gwynne is a stranger in a new town. Bringing up her son Noah by herself, she is slowly rebuilding her life, but loneliness is one obstacle she has yet to overcome. She's intrigued by a glimpse of her neighbour in the apartment across from hers – and then, one evening, she sees a message in his window just for her:
WHAT ARE THOSE FLOWERS CALLED?
And so begins a love story of two people reaching out, daring to trust a stranger…