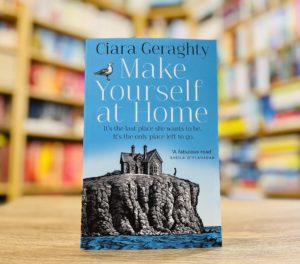 Ciara Geraghty is fast becoming one of my top three favourite Irish Authors! This book is gentle, extremely well described and the characters are developed so well. The pace picks up just over halfway through and I found myself wanting to get to the conclusion and see how the story unravelled but at the same time I didn't want to stop reading. I was lost in the settings and dramas described. Once again Ciara has dealt with some very difficult issues – in an extremely sensitive way.
The best way to describe this book is that the characters feel like friends. There are many uplifting and heart-warming moments and equally emotional ones. You will find yourselves rooting hard for Marianne and Rita to get where they want to be and you'll maybe even have a few laughs along the way as the humour sprinkled throughout offsets the underlying seriousness.
Beautiful, warm and unique in style, this is a book you don't want to miss out on.
About the Book…
It's the last place she wants to be. It's the only place left to go
When Marianne's carefully constructed life and marriage fall apart, she is forced to return to Ancaire, the ramshackle seaside house perched high on a cliff by the Irish Sea. There she must rebuild her relationship with her mother, Rita, a flamboyant artist and recovering alcoholic who lives by her own rules.
Marianne left home when she was fifteen following a traumatic and tragic incident. She never planned to return, and now she has to face the fact that some plans don't work out the way you wanted them to. But she might just discover that, sometimes, you have to come to terms with the story of your past before you can work out the shape of the future…
Genre: Contemporary Fiction
Publication: 2nd September 2021
Connect with the Author…
Facebook| Twitter|Instagram|Website
Thanks to NetGalley and the publisher and author for a copy of this book in exchange for my honest review. Check out my blog for more book related posts and to enquire about future reviews, blog tours and cover reveals.
Are you looking for a Bookish environment to talk all things books? Then look no further than The Fiction Cafe – don't forget to answer the membership questions in order to join. We welcome Authors and Readers and there are lots of exciting happenings in the group! Our Book of the Month Read A Longs happen there too.