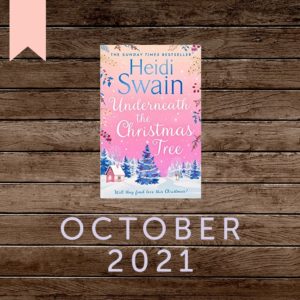 Oh Heidi Swain – what a treat this book is! Heidi is the absolute Queen of domestic fiction – whether it's something to get you through the Summer or cosy up with in Winter. This is probably my favourite of her publications so far – she just keeps getting better and better and yet her books are fantastic to begin with! Heidi's books explore multiple themes – romance – loss – friendship and so much more. The themes are explored sensitively and through a carefully written and researched storyline.
What a joy that this was the first Christmas book of 2021 and is clearly a firm five star read. Warm, beautiful characters, a cosy setting, the perfect weather and…Christmas Trees! Heidi knows exactly what the essence of Christmas is and captures it perfectly in her books. There are also some fabulous business ideas in this book too! This is a stand alone book but there are a few familiar faces popping up here and there…
About the Book…
Wynter's Trees is the home of Christmas. For the people of Wynmouth it's where they get their family Christmas tree, and where Christmas truly comes to life.
But for Liza Wynter, it's a millstone around her neck. It was her father's pride and joy but now he's gone, she can't have anything to do with it. Until her father's business partner decides to retire and she must go back to handle the transition to his son Ned.
When Liza arrives, she discovers a much-loved business that's flourishing under Ned's stewardship. And she's happy to stay and help for the Christmas season, but then she has other plans. But will the place where she grew up make her change her mind? And can it weave its Christmas cheer around her heart…?
Genre: Christmas Fiction
Publication: 28th October 2021

About the Box…
Underneath the Christmas Tree is the perfect festive read, promising snowfall, warm fires and breath-taking seasonal romance. Perfect for fans of Milly Johnson, Carole Matthews and Cathy Bramley.
We have put together a very special edition box for this publication, featuring a Christmas Tree scented wax melt bar, a pewter christmas tree charm AND many more treats! You can pre-order your box here.
About the Author…
Heidi Swain is the Sunday Times Top Ten best-selling author of SLEIGH RIDES AND SILVER BELLS AT THE CHRISTMAS FAIR. Her other titles include The Cherry Tree Café, Summer at Skylark Farm, Mince Pies and Mistletoe at the Christmas Market, Coming Home to Cuckoo Cottage, Snowflakes and Cinnamon Swirls at the Winter Wonderland, Poppy's Recipe for Life, The Christmas Wish List, The Secret Seaside Escape, The Winter Garden and A Taste of Home.

Heidi lives in beautiful south Norfolk with her family and a mischievous cat called Storm. She is passionate about gardening, the countryside, collecting vintage paraphernalia and reading. Her tbr pile is always out of control!
Connect with the Author…
Facebook | Twitter | Instagram | Website
Thanks to NetGalley and the publisher and author for a copy of this book in exchange for our honest review. Check out our blog for more book related posts and to enquire about future reviews, blog tours and cover reveals.