One body… Six Victims…
Sandwiching this book amongst festive Christmas reads was a good idea! Equally, it was completely fantastic and so good to dive into a Crime Thriller and become immersed in a gritty and gruesome debut novel. The best bit? That there are two more publications in this Trilogy to read afterwards too! The tagline of One Body… Six Victims… was enough in itself to lure me in to find out exactly how that was possible and what was going on in this book.
I wasn't disappointed! Hooked from start to finish – not least by the storyline but also by Daniel's writing style. There's a perfect injection of humour throughout the book – and it's definitely needed that's for sure. With dark humour and grotesque crimes… it's fast paced and there are lots of characters (and the usual situation of police officers being referred to by their surname and first name and causing a little confusion!). There's a very compelling plot, great characters and a few twists and turns along the way. Everything that a good crime thriller needs is contained within this book.
The book was originally wrote as a screenplay and you can tell – it's very cinematic! I know that the series is coming to TV very soon and I can't wait to see the storyline brought to life, it's very deserving of a place on our TV screens!
About the Book…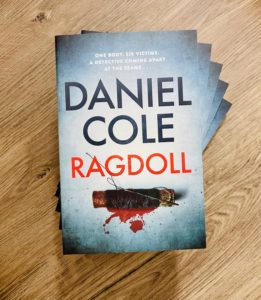 William Fawkes, a controversial detective known as The Wolf, has just been reinstated to his post after he was suspended for assaulting a vindicated suspect. Still under psychological evaluation, Fawkes returns to the force eager for a big case. When his former partner and friend, Detective Emily Baxter, calls him to a crime scene, he's sure this is it: the body is made of the dismembered parts of six victims, sewn together like a puppet–a corpse that becomes known as "The Ragdoll."
Fawkes is tasked with identifying the six victims, but that gets dicey when his reporter ex-wife anonymously receives photographs from the crime scene, along with a list of six names, and the dates on which the Ragdoll Killer plans to murder them.
With a breakneck pace, a twisty plot, and a wicked sense of humor, Ragdoll announces the arrival of the hottest new brand in crime fiction.
Genre: Crime Thriller
Publication: 2017

About the Box…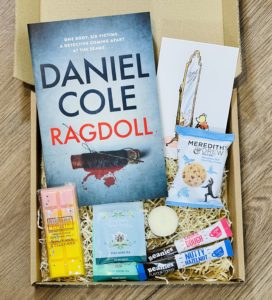 Ragdoll by Daniel Cole is our Book Club pick for October and once again every single copy has been signed! Packaged up in a box with all of our usual treats, this would make the perfect gift for your shelf…or someone else… Order yours here.
About the Author…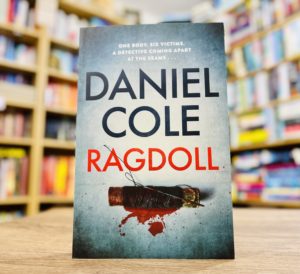 Born in 1983, Daniel Cole has worked as a paramedic, an RSPCA officer and most recently for the RNLI, driven by an intrinsic need to save people or perhaps just a guilty conscience about the number of characters he kills off in his writing.
Are you looking for a Bookish environment to talk all things books? Then look no further than The Fiction Cafe – don't forget to answer the membership questions in order to join. We welcome Authors and Readers and there are lots of exciting happenings in the group! Our Book of the Month Read A Longs happen there too.