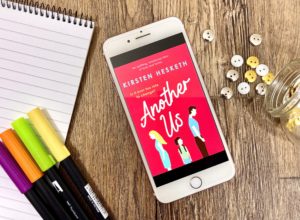 My thoughts…
I loved the equal doses of humour and emotion that are conveyed in this book – it's needed with the topics that Kirsten deals with. However it never loses that sense of serious-ness at the right points which is so important.
Finding a book full of compassion, ordinary people, ordinary lives, and trials and tribulations, is refreshing. This isn't predictable and I like that – it's refreshing to find something that doesn't go the way you think it will (bit like life!).
This book also has the added bonus of being educational without being dry or prescriptive. Emma, the main character, is learning and sharing – the book focuses on diagnosis of Asperger's as well as all sorts of other happenings in life. Kirsten has a great talent with words and characterisation. When you meet a person with Autism… you have met just one person with Autism. Everyone is different, and that's captured very well within this book. Equally it's great to see a book featuring such a diverse set of characters rather than the usual.
About the book…
What if Emma isn't the person she thought she was?
Her younger son has just been diagnosed with autism.
She's accidentally quit her job.
The marriage she was dedicated to suddenly seems like a sham.
She's pretty sure that she is going to have an affair with a hot new dad at the school.
The only thing that stays the same is everyone else. Emma realises it's not them – it's her. But if she's not who she thought she was, can her old life fit in with the new Emma?

Genre: Domestic Fiction/Contemporary Fiction
Publication: May 2020 (Canelo)

About the author…
Kirsten is a contemporary fiction writer and published her debut novel in May 2020 (write in the middle of a global pandemic!). She has based her first novel on a family member's diagnosis of mild Asperger's. Kirsten lives i Henley-on-Thames and is currently working on her second book.
Connect with the Author…