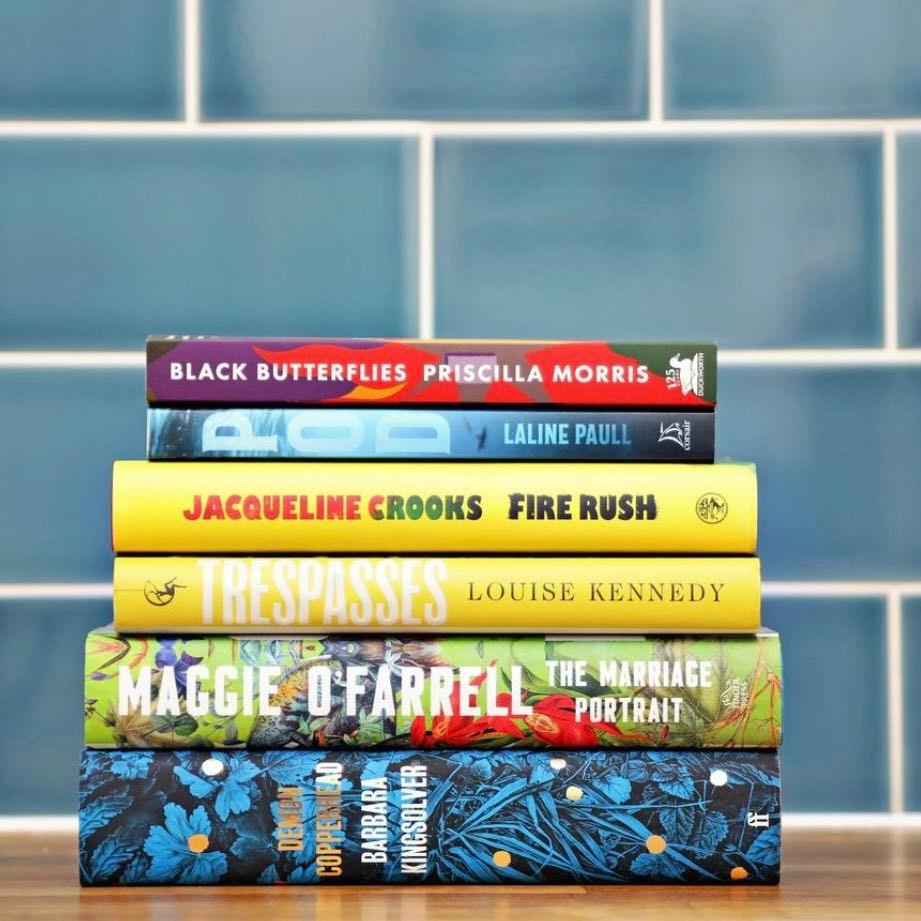 The 2023 Women's Prize for Fiction Shortlist has been announced. First-time novelists are joined by two former winners on the diverse list, as the six 'ambitious and hard-hitting' contenders are revealed.
The first-time novelists shortlisted for the prize are Jacqueline Crooks for Fire Rush, Louise Kennedy for Trespasses and Priscilla Morris for Black Butterflies.
They are joined by Barbara Kingsolver, who won the prize in 2010 for The Lacuna and is shortlisted this year for Demon Copperhead, and Maggie O'Farrell, who is shortlisted for The Marriage Portrait and who won the prize in 2020 for Hamnet.
The list is completed by Pod by Laline Paull, who was previously shortlisted for the prize in 2015 for her novel The Bees.
The winner of this year's prize will be announced on 14 June. The 2022 prize was won by Ruth Ozeki for The Book of Form and Emptiness.
The Shortlists:
Black Butterflies by Priscilla Morris – now in stock with signed bookplates
Sarajevo, spring 1992. Each night, nationalist gangs erect barricades, splitting the diverse city into ethnic enclaves; each morning, the residents – whether Muslim, Croat or Serb – push the makeshift barriers aside.
Inspired by real-life accounts of the longest siege in modern warfare, only thirty years ago, Black Butterflies is a breathtaking portrait of disintegration, resilience and hope.
Pod by Laline Paull.
Bestselling author Laline Paull returns with an immersive and transformative new novel of an ocean world and its extraordinary creatures, that is increasingly haunted by the cruelty and ignorance of the human race.
In her terrifying, propulsive novel, Laline Paull explores the true meaning of family, belonging, sacrifice – the harmony and tragedy of the pod – within an ocean that is no longer the sanctuary it once was, and which reflects a world all too recognisable to our own.
Fire Rush by Jacqueline Crooks.
Yamaye lives for the weekend, when she can go raving with her friends at The Crypt, an underground club in the industrial town on the outskirts of London where she was born and raised. A young woman unsure of her future, the sound is her guide – a chance to discover who she really is in the rhythms of those smoke-filled nights. In the dance-hall darkness, dub is the music of her soul, her friendships, her ancestry.
Trespasses by Louise Kennedy.
There is nothing special about the day Cushla meets Michael, a married man from Belfast, in the pub owned by her family. But here, love is never far from violence, and this encounter will change both of their lives forever.
Tender and shocking, Trespasses is an unforgettable debut of people trying to live ordinary lives in extraordinary times.
The Marriage Portrait by Maggie O'Farrell.
The Marriage Portrait is a dazzling evocation of the Italian Renaissance in all its beauty and brutality.
Winter, 1561. Lucrezia, Duchess of Ferrara, is taken on an unexpected visit to a country villa by her husband, Alfonso. As they sit down to dinner it occurs to Lucrezia that Alfonso has a sinister purpose in bringing her here. He intends to kill her.
The Marriage Portrait is an unforgettable reimagining of the life of a young woman whose proximity to power places her in mortal danger.
Demon Copperhead by Barbara Kingsolver.
Demon's story begins with his traumatic birth to a single mother in a single-wide trailer, looking 'like a little blue prizefighter'. For the life ahead of him he would need all of that fighting spirit, along with buckets of charm, a quick wit, and some unexpected talents, legal and otherwise.
Suffused with truth, anger and compassion, Demon Copperhead is an epic tale of love, loss and everything in between.
Browse our Shop
Looking for your next read? Head to our Shop to see what's available. We're working on stocking the shortlisted titles and already have a few signed editions in the shop!