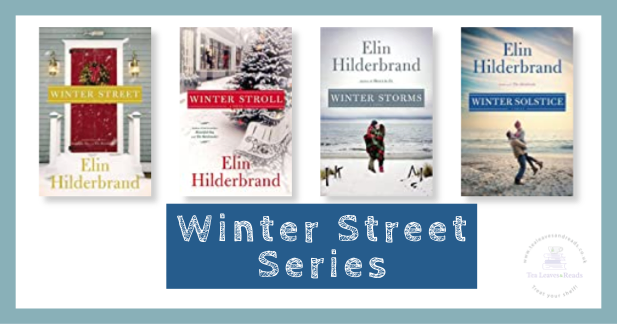 I absolutely adore anything written by Elin Hilderbrand and The Winter Street series is just perfect – for any time of year but in particular during the Holidays season. I discovered it for the first time December 2017 and concluded the series in January 2018. Clear the decks for this one… it'll reel you in!
Lots of people ask whether these books can be read as stand alone books. They can. Hilderbrand is very good at giving a light but informative overview of the back story of any main character. But having said that, WHY WOULD YOU? These books aren't huge, they aren't like a detective series that spans the alphabet (also awesome though) – it's just four harmless but incredible books. Read them all. Here are my thoughts…
Winter Street – 1
In bestseller Elin Hilderbrand's first Christmas novel, a family gathers on Nantucket for a holiday filled with surprises.
Kelley Quinn is the owner of Nantucket's Winter Street Inn and the proud father of four, all of them grown and living in varying states of disarray. Patrick, the eldest, is a hedge fund manager with a guilty conscience. Kevin, a bartender, is secretly sleeping with a French housekeeper named Isabelle. Ava, a school teacher, is finally dating the perfect guy but can't get him to commit. And Bart, the youngest and only child of Kelley's second marriage to Mitzi, has recently shocked everyone by joining the Marines.
The best thing about this book? It's a mini series and there are three more! This review will now terminate because I will have more to say once I've read them ALL!
Winter Stroll – 2
Following on from the first book in the Winter Street series (which ended so abruptly we all had to run out and find the second book to see what happens!) we join the Quinn family again on Nantucket for Christmas. We as the readers have the opportunity to piece together a year of their lives as we enter the scene a year after the events of the first book where all sorts happened to throw this family into turmoil. This book isn't available on Kindle (at the time of review) in the USA or UK and so I had to get a paperback version which really makes you appreciate how small and brief these books are. Update – the paperback is now rare too! Neverthless Hilderbrand as always packs a lot in.
When we last saw the Quinns, Mitzi had been caught kissing Santa Claus (George), son Patrick was charged with insider trading, and youngest son Bart was missing in Afghanistan. Now Patrick is in jail, and his wife, Jennifer is struggling to cope with being a single mother to her three boys. There is still no word on Bart, and Mitzi, still with George, is sick with worry. Others in the family are also in relationships when the book begins.
In this book we see things move on for Kelley and Mitzi, Ava and her romance(s), Margaret and Drake… we drop in on the situation with Patrick and Jennifer and Kevin and Isabelle too. There's a hint of what's going on for Bart as well.
The ending is still abrupt but it lays the foundations for the next book…
Winter Storms – 3
The second to last in the Winter Street trilogy! I did feel as if I wasn't ready to leave the Quinn family – having said that the family have had enough drama to last anyone a lifetime!
Some of the stormy weather of the past few seasons seems to have finally lifted for the Quinns. After a year apart, and an ill-fated affair with the Winter Street Inn's old Santa Claus, Mitzi has returned to rule the roost. There's more news on other key members of the family but…spoilers.
Winter Solstice – 4
Raise one last glass with the Quinn Family at the Winter Street Inn – I can't believe we're finally saying goodbye! I so much want this series to continue but I feel like the Quinns needs a major break now. So, grab a cup of tea, box of tissues and perhaps a good piece of chocolate because you're going to need it after this bittersweet goodbye…
The Quinn family are easy to relate to, easy to fall in love with and completely easy to read in this wonderful series that follows key members of the family on their trials and tribulations through life. If you will only get one thing from this series (I find that hard to believe though…) then you'll take away the knowldge that the only constant in life is change.
I did feel like there were some loose ends but that gives me hope for number five…please…there needs to be number five! This is definitely on my Christmas re-read list every Winter Solstice.
We have two of the books in the series available right now in our shop! For Winter Solstice click here and for Winter Storms click here.