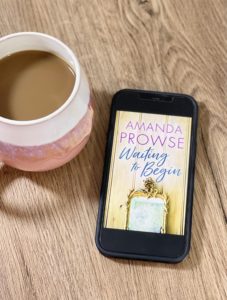 Our thoughts…
From the bestselling author of The Girl in the Corner comes a story that asks: what would you risk for a shot at happiness?
This book is simply beautiful for a vast amount of reasons but the main one being the blast back into the past. 1984 will take you right back to teenage angst, frustrations, dramas and turmoil whether or not you're a seventies, eighties or nineties baby! Amanda has used her knowledge and skill with writing to create an entertaining and completely relatable story, taking issues of both the eighties and current time and conveying them with sensitivity and graceful prose.
The book is set across one day – Bessie's Birthday – flitting between both 1984 and sixteen year old Bessie and the current time, 2021, on her 53rd Birthday. Amanda Prowse is the absolute Queen of story-telling and contemporary fiction. Her books are a treat and will have you laughing, remembering, and crying. Waiting To Begin will challenge you to evaluate your life and your decisions, whilst becoming fully involved and gripped by Bessie's story.
About the Book…

1984. Bessie is a confident sixteen-year-old girl with the world at her feet, dreaming of what life will bring and what she'll bring to this life. Then everything comes crashing down. Her bright and trusting smile is lost, banished by shame—and a secret she'll carry with her for the rest of her life.
2021. The last thirty-seven years have not been easy for Bess. At fifty-three she is visibly weary, and her marriage to Mario is in tatters. Watching her son in newlywed bliss—the hope, the trust, the joy—Bess knows it is time to face her own demons, and try to save her relationship. But she'll have to throw off the burden of shame if she is to honour that sixteen-year-old girl whose dreams lie frozen in time.
Can Bess face her past, finally come clean to Mario, and claim the love she has longed to fully experience all these years?
Genre: Contemporary Fiction
Publication: June 2021

About the Author…
Amanda Prowse likens her own life story to those she writes about in her books. After self-publishing her debut novel, Poppy Day, in 2011, she has gone on to author twenty-seven novels and six novellas. Her books have been translated into a dozen languages and she regularly tops bestseller charts all over the world. Remaining true to her ethos, Amanda writes stories of ordinary women and their families who find their strength, courage and love tested in ways they never imagined.
The most prolific female contemporary fiction writer in the UK, with a legion of loyal readers, she goes from strength to strength. Being crowned 'queen of domestic drama' by the Daily Mail was one of her finest moments. Amanda is a regular contributor on TV and radio but her first love is, and will always be, writing.
Connect with the Author…
Facebook | Facebook Page | Twitter | Instagram | Website
Thanks to NetGalley and the publisher and author for a copy of this book in exchange for our honest review. Check out our blog for more book related posts and to enquire about future reviews, blog tours and cover reveals.
Are you looking for a Bookish environment to talk all things books? Then look no further than The Fiction Cafe – don't forget to answer the membership questions in order to join. We welcome Authors and Readers and there are lots of exciting happenings in the group! Our Book of the Month Read A Longs happen there too.