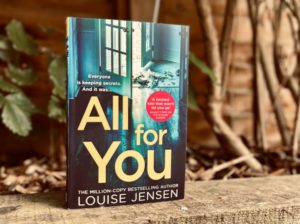 Our thoughts…
Coming October 2021!  It's a good day when there's another Louise Jensen publication to read. If you're looking for a book that's filled with tension, twists, drama, and darkness… then this is the book for you. Louise is an absolutely incredible Psychological Thriller writer and up there as one of our top favourites.
As always with someone that writes like Louise does, there's a fear that the next book won't live up to the previous book that she wrote. Rest assured, once again… she's done it. She's created a storyline that is unique and which it's impossible to predict. There are plenty of curveballs and twists to throw you off the scent of what's really going on. Louise takes time to research, plan and plot and it really shows. Every single book is a psychological treat and this one is no exception.
About the Book…

MEET THE WALSH FAMILY
Lucy: Mother. Wife. Falling to pieces . . .
Aidan: Father. Husband. In too deep . . .
Connor: Son. Brother. Can never tell the truth . . .
Everyone in this family has something to hide, but what are they trying to protect, and at what cost?
IT WAS ALL FOR YOU.
Genre: Psychological Thriller
Publication: October 2021

About the Author…
Louise Jensen has sold over a million English language copies of her International No. 1 psychological thrillers The Sister, The Gift, The Surrogate, The Date, The Family and The Stolen Sisters. Her novels have also been translated into twenty-five languages, as well as featuring on the USA Today and Wall Street Journal Bestseller's List. Louise's sixth thriller, The Stolen Sisters, will be published in Autumn 2020 by Harper Collins and this is her seventh book. Louise also writes contemporary fiction under the pen name Amelia Henley.
Connect with the Author…
Facebook | Twitter | Instagram  | Pre-Order
Thanks to Louise Jensen for a copy of this book in exchange for our honest review. Check out our blog for more book related posts and to enquire about future reviews, blog tours and cover reveals.
Are you looking for a Bookish environment to talk all things books? Then look no further than The Fiction Cafe – don't forget to answer the membership questions in order to join. We welcome Authors and Readers and there are lots of exciting happenings in the group! Our Book of the Month Read A Longs happen there too.