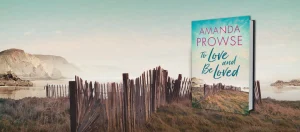 In this life-affirming tale from bestselling author Amanda Prowse, one woman built a new life to escape her humiliation. Now, can she put the shame behind her and finally find happiness?
Amanda Prowse's books have seen me through life changes, job changes, trials and tribulations. This was a comforting read during the turn of the year with lots of changes going on and it was so nice to have a familiar writing style at the end of a long day to get lost in.
This is a family drama set against the beautiful backdrop of Cornwall (Port Charles) and Thornbury, near Bristol. Amanda uses careful research and her own knowledge to create stunning realistic settings that will make you want to explore them. She creates characters that you are compelled to love (and sometimes hate!) and brings unique and refreshing storylines into their lives to create the contemporary domestic dramas that we've all become quite hooked upon.
There are bittersweet moments, incredible emotional chapters and scenes, and just the right amount of humour injected in at various points to balance this book into the well known style that we have come to know and love from Amanda.
About the Book…
Young and desperately in love, Merrin had the whole world ahead of her. But just as her new life was about to start, the ground beneath her feet was cruelly swept away. Devastated by the humiliation, she ran far away from the beloved fishing village she had always called home to lick her wounds and escape her gossiping friends and neighbours.
It hasn't been easy, but six years later Merrin has forged a new life for herself far from the sea, burying the impulsive girl she once was. But when tragedy strikes, she has no choice but to return to the village she swore she'd never set foot in again.
Reluctantly back in the arms of her community, Merrin begins to realise what she's been missing out on all these years. As she begins to remember the person she used to be, she is forced to make choices about her future, and to question the past. What does she want from her life? Who is important to her? Who is to blame for everything that went wrong? And can she forgive them, let old wounds heal and finally be her true self again?
Genre: Contemporary Fiction
Publication: January 11th 2022

About the Author…
Amanda Prowse likens her own life story to those she writes about in her books. After self-publishing her debut novel, Poppy Day, in 2011, she has gone on to author over twenty-seven novels and six novellas. Her books have been translated into a dozen languages and she regularly tops bestseller charts all over the world.
Remaining true to her ethos, Amanda writes stories of ordinary women and their families who find their strength, courage and love tested in ways they never imagined. The most prolific female contemporary fiction writer in the UK, with a legion of loyal readers, she goes from strength to strength.
Being crowned 'queen of domestic drama' by the Daily Mail was one of her finest moments. Amanda is a regular contributor on TV and radio but her first love is, and will always be, writing.
Connect with the Author…
Facebook | Twitter |  Instagram
Thanks to NetGalley and the publisher and author for a copy of this book in exchange for my honest review. Check out my blog for more book related posts and to enquire about future reviews, blog tours and cover reveals.
Are you looking for a Bookish environment to talk all things books? Then look no further than The Fiction Cafe – don't forget to answer the membership questions in order to join. We welcome Authors and Readers and there are lots of exciting happenings in the group! Our Book of the Month Read A Longs happen there too.