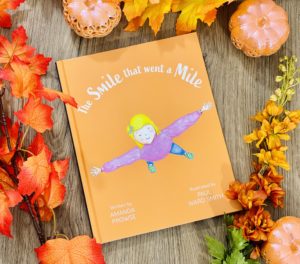 A beautifully illustrated story perfect for reading aloud or for small children to read by themselves! We were delighted to receive a copy of this rather stunning book. We've been following Paul Ward Smith's work for some time now and, of course, Amanda Prowse is one of our favourite Authors – so this is a brilliant combination of two fantastic talent.
This is just the book needed this year to remind us of the simple kindness of a smile. Amanda's beautiful writing shines throughout and is only further complimented by illustrations that will evoke a sense of nostalgia even for adults!
Congratulations Amanda & Paul on your wonderful publication – and please please please bring us more collaborations like this!
The book is available on Kindle and in hardback from Amazon and many large bookshops.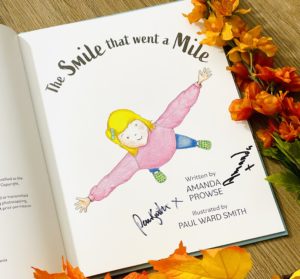 About the Book…
When Emily smiled at Mrs Simpson on the way to school, she had no idea what would happen next…
Find out in The Smile that went a Mile, the warm and friendly book that shows how just one person being kind can make everyone's day better.
This charming picture book is perfect for reading aloud or for small children to read by themselves, time and time again. Destined to become a classic that can be enjoyed across the generations, this beautiful book is perfect for little hands.
Genre: Children's Book
Publication: September 2021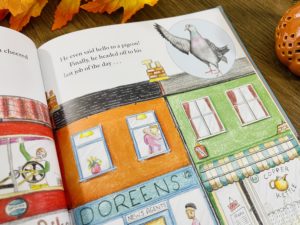 About the Author…
Amanda Prowse is an International Bestselling author whose twenty-six novels, non-fiction title and seven novellas have been published in dozens of languages around the world. Published by Lake Union, Amanda is the most prolific writer of bestselling contemporary fiction in the UK today; her titles also consistently score the highest online review approval ratings across several genres. Her books, including the chart topping No.1 titles 'What Have I Done?', 'Perfect Daughter', 'My Husband's Wife', 'The Girl in the Corner' and 'The Things I Know' have sold millions of copies across the globe.
About the Illustrator…
Paul lives in Kent with his wife, son and his old pal Tonka the dog!
Originally a freelance photographer, like many, Paul found himself abruptly out of work as the whole country came to a sudden halt due to the first Lockdown in 2020. It was during this period he re-discovered his flare for illustration after sketching daily with his 5 year old son. Having not drawn since he was last at school, 30 years previously,  he was unaware of the passion it would ignite and the life changing opportunities it would create. He has been on an incredible journey of recognition and discovery already being chosen for some exciting projects and commissions for a number of recognised authors, organisations and projects.
Connect with the Author…
Facebook | Twitter | Instagram | Website
Connect with the Illustrator…
Facebook | Twitter | Instagram | Website
Thanks to Amanda Prowse & Paul Ward Smith for a copy of this book! Check out our blog for more book related posts and to enquire about future reviews, blog tours and cover reveals.
Are you looking for a Bookish environment to talk all things books? Then look no further than The Fiction Cafe – don't forget to answer the membership questions in order to join. We welcome Authors and Readers and there are lots of exciting happenings in the group! Our Book of the Month Read A Longs happen there too.