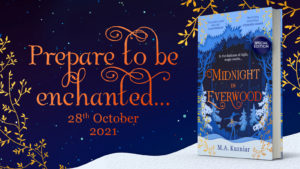 You will fall down the rabbit hole into a completely different world with this book. It's truly truly wonderful. Characters and whole lands that will have you invested in them, sweet treats that will have you salivating, and an underlying story, morals and values, that will have you turning the pages until that gripping conclusion. There is so much within this book – it's almost impossible to do it justice in a review and you really do need to pick it up and see for yourselves!
Everwood is a gorgeous world with dark foundations and yet the beauty of this place shines through every page despite this. There are truly show-stopping scenes – descriptions that really bring to life the magic of this book. There is incredible attention to detail throughout – nothing is glossed over, everything is explored, described and painted so that it comes to life. You will be in Everwood – you will feel the delight and the terror. To create a book that reads like a film adaptation in its attention to the visuals is a true delight.
If you haven't read The Nutcracker, you don't need to – but visit it afterwards like I did because you'll see so many of the wonderful inspirations and how M A Kuzniar made them her own through this magical retelling.  Attention to detail continues in the cover design, artwork and special edition publications of this book too.
About the Book…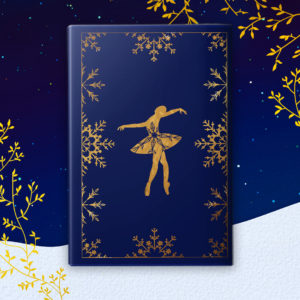 A spell-binding retelling of The Nutcracker, filled with enchanted toys, decadent balls, fierce feminine friendships and a forbidden romance. For fans of The Toymakers, Caraval and The Bear and the Nightingale.
There's nothing Marietta Stelle loves more than ballet, but after Christmas, her dreams will be over as she is obligated to take her place in Edwardian society. While she is chafing against such suffocating traditions, a mysterious man purchases the neighbouring townhouse. Dr Drosselmeier is a charming but calculating figure who wins over the rest of the Stelle family with his enchanting toys and wondrous mechanisms.
When Drosselmeier constructs an elaborate set for Marietta's final ballet performance, she discovers it carries a magic all of its own. On the stroke of midnight on Christmas Eve, she is transported to a snowy forest, where she encounters danger at every turn: ice giants, shadow goblins and the shrieking mist all lurk amidst the firs and frozen waterfalls and ice cliffs. After being rescued by the butterscotch-eyed captain of the king's guard, she is escorted to the frozen sugar palace. At once, Marietta is enchanted by this glittering world of glamorous gowns, gingerbread houses, miniature reindeer and the most delicious confectionary.
But all is not as it seems and Marietta is soon trapped in the sumptuous palace by the sadistic King Gelum, who claims her as his own. She is confined to a gilded prison with his other pets; Dellara, whose words are as sharp as her teeth, and Pirlipata, a princess from another land. Marietta must forge an alliance with the two women to carve a way free from this sugar-coated but treacherous world and back home to follow her dreams. Yet in a hedonistic world brimming with rebellion and a forbidden romance that risks everything, such a path will never be easy.
Genre: Fantasy
Publication: 28th October 2021

About the Book Box…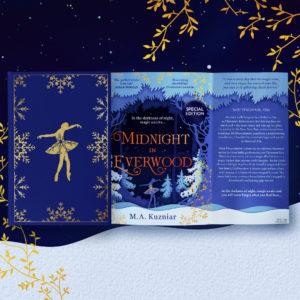 We're really delighted to be stocking a special edition of this book – available only to Independent Bookshops. We're pairing this book with our usual treats – tea, coffee, biscuits, a bookish postcard… but we also picked out a few extras. Your box will include an Everwood scented wax melt bar and a tiny little ballerina silver pewter charm. These special editions are signed by the Author and include a gold foil ballerina on the front of the hardback cover. You can order your copy here.
About the Author…
M.A. Kuzniar spent six years living in Spain, teaching English and travelling the world which inspired her children's series The Ship of Shadows. Her adult debut novel Midnight in Everwood was inspired by her love of ballet and love of The Nutcracker. She lives in Nottingham with her husband, where she reads and writes as much as can and bookstagrams @cosyreads.
Connect with the Author…
Thanks to NetGalley and the publisher and author for a copy of this book in exchange for our honest review. Check out our blog for more book related posts and to enquire about future reviews, blog tours and cover reveals.