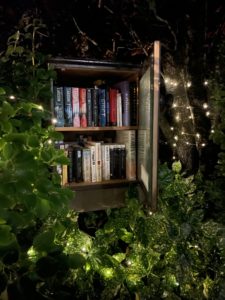 A short while before we came up with the idea of running Tea Leaves and Reads as a business (more about us here!) we built a little free library. This had been a dream for such a long time and the pandemic gave an excuse to make that become a reality. In March 2020 the world shut down, with it, bookshops and libraries. By the time the second lockdown in the UK was introduced a lot of businesses such as bookshops had been able to move to click and collect service – but back at the beginning when everything was new, it wasn't an option.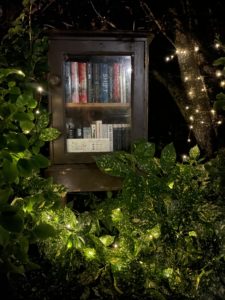 So, in May 2020 we started building a little community library in our front garden. As time went on we had some socially distanced support from other family members to make the dream make sense. We started off with a bedside cabinet/cupboard that somebody sold to us second hand. We are lucky to have a long front garden that stretches the width of our long-shaped front house, and a beautiful tree that made the perfect location for the library.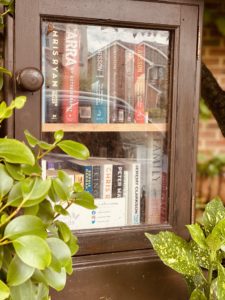 The cabinet was painted (garden fence paint!) and water sealed – and a platform built because we knew it needed to be off the ground. We created stilts from old bits of wood to make a sturdy platform for the cabinet to sit on so that it could be the perfect height for viewing what was inside.
A children's free library was also built (a cabinet) nearby and this was floor level, so we knew that it made sense to make ours higher up. To make the door was a little tricker. The panel needed to be knocked out and a see-through material put in its place – after all, not many people will open a cupboard in the trees unless they have an idea of what's in it!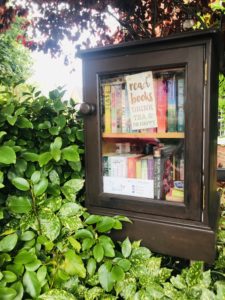 Plexi-glass and other similar materials had become difficult to find fairly quickly in the pandemic. Every bit of material was being utilised for screening and creating shields to try and keep people safe. We were lucky to find an off-cut that somebody gave us and cut to size.
As Summer got properly started and cautiously some restrictions were lifted, the library was opened. We started off putting lots of our own books in but gradually the local community found out that it was there and books were coming and going daily. You can see a video of here of what it looked like just a few weeks after it opened.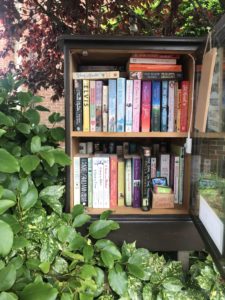 Now, almost two years on, the library still stands tall and we've not had too many issues. One Summer we did have a problem with kids emptying most of the books out and causing some hassle. Our solar light that helped people see inside in the Winter months was stolen – but nothing else has happened and we've been quite lucky. The key, if you're looking to build your own, is to weather seal it as much as possible.
The library continues to be used 3 or 4 times a week and there's a great turnover of titles included. Here's a little video of what it looked like last Summer. We also occasionally add surplus stock from Tea Leaves and Reads – and the odd signed edition as a treat for the next visitor!  Keep an eye on our Instagram/Facebook stories as we have a highlight there and regularly add updates and pictures of what titles are going in and out of the library.