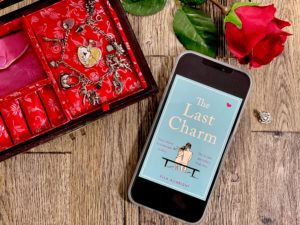 My thoughts…
This book is a journey of emotions as we unravel Leila and Jake's story through their alternate narrations. It's unique, modern and poignant and firmly delivers the message that we should make the most of the time that we have.
I have a charm bracelet – one with a patchy history – and it was even more special discovering Leila's charms and the reasons that they were chosen as I imagined the history behind some aspects of my own bracelet.
This book burns slowly – and I love that. The build up to the ending (and what a beautiful ending) is slow and dramatic and the tension is strong. This is absolutely beautiful and I love everything about the characters, the writing style and the story.
About the book…
Leila's charm bracelet tells a story of love, a story of loss, a story of hope.
This is the story of her… and the story of Jake.
When Leila Jones loses her precious charm bracelet and a stranger finds it, she has to tell the story of how she got the charms to prove she's the owner. Each and every one is a precious memory of her life with Jake.
So Leila starts at the beginning, recounting the charms and experiences that have led her to the present. A present she never could have expected when she met Jake nearly twenty years ago…
Genre: Contemporary Romance
Publication: August 2020

About the Author…
A self-confessed reading addict, Ella Allbright writes commercial women's fiction set in her beautiful home county of Dorset. This is Ella's first novel in this genre.
Ella also writes as Nikki Moore, the author of the popular #LoveLondon romance series. A number of the novellas featured in the Top 100 short story charts on Kobo and the Top 20 in the Amazon UK bestsellers Holiday chart, and in 2018 the collection was released in Italy. Her first published work was the short story 'A Night to Remember' in the best selling Mills & Boon / RNA anthology 'Truly, Madly, Deeply.' Her debut romance 'Crazy, Undercover, Love' was shortlisted for the RNA Joan Hessayon Award 2015.
When not writing or reading, she can be found working in her HR day job, walking the family's cute beagle puppy or watching a Netflix series!
Connect with the Author…
Facebook | Twitter | Instagram | Website
Thanks to NetGalley and the publisher and author for a copy of this book in exchange for my honest review. Check out my blog for more book related posts and to enquire about future reviews, blog tours and cover reveals. Are you looking for a Bookish environment to talk all things books? Then look no further than The Fiction Cafe – don't forget to answer the membership questions in order to join.