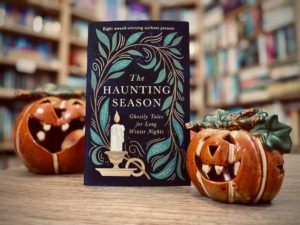 A beautiful collection of short stories from best-selling Authors, this is perfect for the Autumn/Winter season as a gift for yourself or others. These aren't really night-mare inducing stories, they're just a little bit chilling and spine-tingling. Perfect! You'll love some more than others but that's the beauty of a short story collection.
About the Book…
Long before Charles Dickens and Henry James popularized the tradition, the shadowy nights of winter have been a time for people to gather together by the flicker of candlelight and experience the intoxicating thrill of a ghost story.
Now eight bestselling, award-winning authors – all of them master storytellers of the sinister and the macabre – bring the tradition to vivid life in a spellbinding new collection of original spine-tingling tales.
Taking you from the frosty Fens to the wild Yorkshire moors, to the snow-covered grounds of a haunted estate, to a bustling London Christmas market, these mesmerizing stories will capture your imagination and serve as your indispensable companion to the cold, dark nights.
Genre: Short Stories
Publication: October 2021

About the Authors…
Featuring new and original tales from:
Bridget Collins – Sunday Times bestselling author of The Binding
Imogen Hermes Gowar – Sunday Times bestselling author of The Mermaid and Mrs Hancock
Kiran Millwood Hargrave – Sunday Times bestselling author of The Mercies
Andrew Michael Hurle – Sunday Times bestselling author of The Loney
Jess Kidd – International award-winning author of Things in Jars
Elizabeth Macneal – Sunday Times bestselling author of The Doll Factory
Natasha Pulley – Sunday Times bestselling author of The Watchmaker of Filigree Street
Laura Purcell – Award-winning author of The Silent Companions
Are you looking for a Bookish environment to talk all things books? Then look no further than The Fiction Cafe – don't forget to answer the membership questions in order to join. We welcome Authors and Readers and there are lots of exciting happenings in the group! Our Book of the Month Read A Longs happen there too.